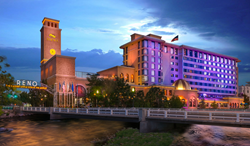 Reno, Nevada (PRWEB) December 19, 2014
As of Wednesday, December 24th, the Tesla Model S 6000 which is the grand prize for the Siena's "Tesla S 6000 Giveaway Contest" will be arriving and located on the casino floor for public viewing. The contest officially kicks off on December 26th and will give 282 people a chance to win a brand new Tesla Model S 6000. Drawings for the contest will be held every weekend until March 29th. It's possible that several people could win the grand prize during the contest though at least one Tesla Model S 6000 is guaranteed to be given away.
See http://www.sienareno.com/promotions for more details on the Tesla Model S 6000 Giveaway, as well as other contests and promotions at the Siena Hotel Spa Casino.
About Siena Hotel Spa Casino
The Siena Hotel Spa Casino is uniquely Reno's only riverfront Hotel and Casino – a privately held and family owned company. The property is located conveniently on the outskirts of downtown Reno/Midtown and is within walking distance of all the other downtown casinos. The Siena Hotel Spa Casino offers a wide variety of amenities such as casual and fine dining, a world class Spa and fitness center, a gift shop, and an intimately-scaled all inclusive casino. The Siena Rewards club allows players to earn prizes, comps and bonuses based on their patronage to the Siena Hotel Spa Casino. For more information, visit http://www.sienareno.com or call (877) 743-6233.