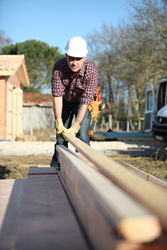 consumer demand is anticipated to boost housing construction next year
Chicago, IL (PRWEB) December 19, 2014
Despite a small decline in builder confidence in December, The Federal Savings Bank expects the housing market to do well next year. The National Association of Home Builders released the results of its most recent Housing Market Index on December 15th, which fell one point to 57.
The drop may dismay some consumers; yet, any index reading higher than 50 indicates more builders see current housing market conditions as good versus poor, according to the NAHB press release. In fact, the score remains within a stable area, NAHB Chief Economist David Crowe stated.
"After a sluggish start to 2014, the HMI has stabilized in the mid-to-high 50s index level trend for the past six months, which is consistent with our assessment that we are in a slow march back to normal," said Crowe. "As we head into 2015, the housing market should continue to recover at a steady, gradual pace."
Housing production remains strong
The three-month moving averages for all and single-family home production are at their highest levels since the recession, the NAHB reported on December 16th. On the same date, the Housing permits and starts dropped slightly, according to a joint release from the U.S. Department of Commerce and U.S. Department of Housing and Urban Development. However, this decline does not take away from the market's continual improvement.
Crowe stated the housing market is still moving forward despite wavering levels of building permits and starts throughout 2014 and believes strong demand will increase these numbers in 2015.
Many factors to aid housing market in 2015
The Federal Savings Bank thinks that consumer demand is anticipated to boost housing construction next year, and that demand is being driven by numerous factors. Mortgage rates continue to remain in historical lows, and the workforce keeps improving. This means more people have steady employment with decent wages, which allows them to save a down payment. Not only can a stronger workforce bring more first-time home buyers to the market, it also helps homeowners looking to trade-up finally make their moves, Crowe stated during a NAHB webinar.
Robert Denk, NAHB assistant vice president for forecast and analysis, not only agreed with Crowe regarding how better employment will help the housing market, but also predicted by the end of 2016, 40 percent of states will have returned to normal production levels of single-family homes.
First-time home buyers or owners looking to move to a bigger place should contact the Federal Savings Bank, a veteran owned bank, to learn more about low mortgage rates.