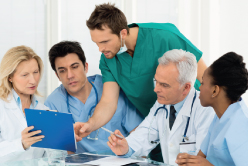 St. Louis, MO (PRWEB) December 22, 2014
Physicians have the responsibility of managing the risks inherent to their profession while protecting their current and future income. Fortunately, most practices and hospitals offer basic insurance and investment options for their employees. Coordinating these employee benefits with the rest of financial planning is a crucial component in a sound financial foundation.
Insurance benefits can be a complex issue, but evaluating all the available options can help protect your family in the event of an accident or hardship. Most doctors are dependent on their income or assets to fund their investments and other fiscal endeavors, and seemingly minor setbacks can derail even the most carefully laid plans. However, if set up right initially, insurance plans require little time and effort to maintain.
Prior to enrolling in a disability policy offered by an employer, physicians should take it upon themselves to exhaust all possible options for individual coverage. Holding multiple disability policies is one of the most effective ways to protect future income. Disability benefits provided by an employer are not permanent, and should be considered a supplement to individual coverage.
A pro-active approach is crucial for protecting insurability down the road because you'll never be younger and healthier than today. The amount of coverage obtained will vary depending on income and specialty. If you are young, healthy and have a good credit score and driving record, insurance can be reasonably affordable if structured correctly.
Insurance is a commodity, but finding the policy that costs the least should not be the primary factor influencing the decision. Instead, the goal should be to find the strongest coverage at the best available price. There's no "one-size-fits-all" answer for determining what kind of coverage is most appropriate. In the end, it comes down to how much income needs to be available in the event that you are no longer able to be the primary provider.
Unlike disability insurance, there's no benefit to keeping an individual health insurance policy on top of an employer-sponsored plan. Besides, group health insurance is usually more affordable than anything that can be purchased individually (and physicians usually have access to great group healthcare options). Employer health plans have the benefit of offering subsidized group rates by leveraging economies of scale.
Many employers offer flexible spending accounts (FSAs), which are tax-advantaged financial accounts that automatically deposit a portion of a pretax paycheck. These pretax contributions can be used to offset out-of-pocket medical expenses. The funds can be used towards qualified medical expenses not covered by insurance such as dental and optometrist visits and certain "FSA-approved" over-the-counter medications and supplies for chronic conditions. Furthermore, you avoid both income and social security taxes on the money contributed.
Dependent-care FSAs allow money to be reserved for the care of dependents. They are often used for child care expenses, but they can also fund the daily care of dependent adults. Most Americans have the option of deducting the cost of childcare off their income for tax purposes. However, physicians are typically excluded from this deduction due to their annual salary being too high. Participating in a dependent care assistance plan would allow a physician to become eligible for tax savings that were previously lost due to high income.
Retirement plans are another common benefit provided to employees, and there's hardly any scenario where it would make sense to decline an employer's contributions into a 401(k) or some other comparable account. On top of this, some employers will match contributions to a retirement plan up to a certain percent. Opting out of this benefit is essentially leaving "free" money on the table.
Enrolling in a retirement savings plan can help establish financial security by reducing tax liabilities. You can contribute up to $17,500 to a 401(k) or similar plan and that contribution will not be considered taxable income. If concerned that tax rates will be higher when the time comes to divest the plan down the road, it may be worth checking to see if your employer offers Roth 401(k) plans. Contributions to these plans don't have any effect on taxable income when deducted from a paycheck, and can be withdrawn tax free during retirement.
Think of group benefits as added compensation for all the dedicated work you perform on a daily basis. When reviewing a group benefits package, it's generally advisable to take what is being offered and not leave anything on the table. It's always possible to revisit the decision and determine if there's any conflict or overlap between the group and individual coverage. The proper coordination of benefits with the fundamental goals of a financial plan will help mitigate risk and provide a solid foundation for your family that can weather the twists and turns of life.
About Larson Financial Group
Larson Financial Group, LLC has offices nationwide serving over 3,500 medical specialists in regards to many aspects of their finances. Using a personalized, comprehensive planning approach, the primary goal is to help doctors navigate through their many unique financial options. In addition to working one-on-one with physicians, the advisors of Larson Financial Group share their knowledge with doctors, hospitals and private practices by offering educational workshops and seminars.
Advisory Services offered through Larson Financial Group, LLC, a Registered Investment Advisor. Securities offered through Larson Financial Securities, LLC, Member FINRA/SIPC.
For informational purposes only and should not be construed as an offer to buy insurance and/or securities or be construed as tax advice. Please consult a financial professional regarding your specific circumstances.