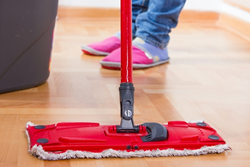 Use felt pads or other protectors underneath all furniture.
Chicago, IL (PRWEB) December 20, 2014
First-time home buyers have to get used to many new responsibilities when they purchase a house. The Federal Savings Bank, a Midwest based lender knows that unlike when they were renting, it's approved clients are in charge of the building and its appliances and furnishings. These newfound duties often include taking care of hardwood floors. Improper maintenance can ruin beautiful and expensive flooring, while proper care can ensure the wood lasts for decades.
The Federal Savings Bank advises to follow these tips to keep their hardwood gleaming and retain the value of the property:

Clean up any spills immediately. If left for a period of time, liquids can warp the wood boards. Some liquids, like juices, are also acidic, which means they can eat away at the finish. Dry spills like cereal may not seem as harmful, but if the mess is ground down, it can become abrasive and scrape the floor.
Use a vacuum meant for hardwood. Vacuums for carpet will be different than those meant for wood flooring - though some can switch between the two materials. The difference is often the roughness and height of the bristles.
Use a reusable microfiber sweeper. Sometimes, homeowners don't need the heavy duty suction of a vacuum. They just need to sweep up the dust. Using a microfiber pad meant for hardwood will do the job and help keep floors shiny.
Don't use harsh cleaning products on the floor. Inexperienced homeowners may be tempted to mop the floors with soap, ammonia-based or other cleaning products. This can ruin the finish on the floor.
Avoid wax-based products. These items can cause wax to build up on the wood over time, marring the finish.
Use only wood-floor-specific products. If a cleaning agent is necessary to get up a tough stain, homeowners should only use products that are safe for wood flooring. Additionally, it's best to never leave standing water on the floor. Any excess water from cleaning should be wiped up with a towel.
Place floor protectors under furniture. Table, chair and other furniture legs and corners can scratch floors. Use felt pads or other protectors underneath all furniture.
Don't use rubber or plastic mats under furniture or rugs. These products can trap moisture and stick to the floors.
A similar routine for laminate
Laminate flooring is also a popular flooring choice in new homes, and homeowners can care for it in much the same way they would hardwood flooring. Owners should use a vacuum or sweeper safe for laminate flooring and avoid mopping or using soap-based detergents. If a spill requires water to clean, owners shouldn't leave standing water on the floor.
First-time home buyers should contact The Federal Savings Bank, a veteran owned bank, to learn about low mortgage rates.