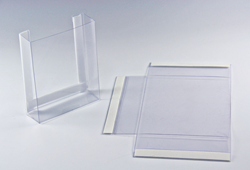 We call that Pop-Up, Adhere, and Go adaptability
Chino, California (PRWEB) December 30, 2014
In the latest of many recent innovative roll-outs, Plastic Products Mfg (PPM) today announced the release of a lightweight, durable Add-On Vinyl Brochure Holder Pocket. At 4" wide x 5" high, Style VP040050 in particular is in the spotlight, constructed in a thick, clear vinyl material. Custom sizes are also available as well as personalized imprinting to enhance POP Displays and create stronger brand/product recognition with Brochure Holders.
PPM spoke about the line addition, saying that new "Vinyl Add-On Brochure Pockets come with three-sided adhesive so they attach to just about anything... signs, doors, walls...even existing posters and cardboard displays. We call that Pop-Up, Adhere, and Go adaptability."
In addition to the wide range of display options, PPM Vinyl Brochure Holder Pockets are known for being easy to assemble straight out of the box. Pre-Folded Vinyl Pockets also ship flat to minimize shipping rates.
Another key benefit with Style VP040050 and PPM Add-On Vinyl Brochure Holder Pockets showcases the actual strength of the Display Holder itself. The non-breakable quality is already in demand for use as grocery store coupon holders. Coupled with their cost-effectiveness, Add-On Brochure Holder Pockets are expected to pop up in other heavy foot traffic areas including kiosks and trade shows as well as retail countertop displays and hospitality venues.
More details about Vinyl Brochure Holder Pockets and Style VP040050 are now available with PPM Customer Service Representatives. Orders can also be placed at http://www.plasticproductsmfg.com with special volume pricing on bulk orders.
About Plastic Products Mfg.: Specializing in manufacturing and distributing Acrylic and Vinyl Display Products, Sign Holders, Brochure Holders, and Point-of-Purchase displays for more than three decades, Plastic Products Mfg has a strong reputation for top quality standards, outstanding delivery, and an exclusive "Customer Bill of Rights."
Plastic Products Mfg has manufacturing facilities in our California headquarters and production sources in Mexico and China. This allows us to offer our customers the best value and quality with thousands of in-stock products available for fast, hassle-free shipping anytime.