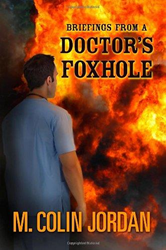 Soon, your best medicine depends more on how well you can fly by the seat of your pants than on any wisdom you can muster.
(PRWEB) December 22, 2014
A lifetime of medicine went into the writing of this book. "Once you figure out that practicing medicine is war at times, you need a strategy. You long to fight a just war against the unfathomable, incompetence, greed, or the next random injustice, but no plan suits every skirmish."
"You reason, you plead, cajole, or fly off the handle until you find a foxhole. Then the tincture of time can work its magic, and a dodgy sense of gallows humor comes in handy. Soon, your best medicine depends more on how well you can fly by the seat of your pants than on any wisdom you can muster." according to physician and author M. Colin Jordan.
Amazon readers respond:
"WOW, what a read, page turner from out of the gate. Missed work the next day doing an all nighter with this fascinating book, the movie cannot be far behind." – R. Hickman
"An incredible story – a must read for everyone! An eye-opener accounting of the real-life experiences from a well-recognized and highly respected medical doctor." – Robert F. Denham
"Thank you especially for the chapter on AIDS. It should be read by everyone." – Michael J. Weaver, MD
"It enlightens the reader about the intangible and precious gift of 'savvy,' which needs to be cultivated by successful doctors and which we as patients too seldom encounter. If we are exceptionally lucky, 'Briefings' will encourage other doctors to become more conscientious about their calling. Dr. Jordan will have become a deservedly influential mentor far beyond his immediate circle." – Patrick Molloy
"A great book! I was drawn to the author's honesty. From internship to residency, to a life of medical investigation and treatment, his heart and soul are with the patients. He recognizes his own and others' limitations, and he cheers their triumphs." – Edna
Watch the video at: https://www.youtube.com/watch?v=gQ2BztcShaw&feature=youtu.be
According to Kirkus Reviews:
"In this engrossing memoir, a thoughtful physician battles baffling ailments, including a strange new malady called AIDS … He centers much of his narrative on case studies that he approaches with the inquisitive cunning of a detective. These medical mysteries, which read like episodes of 'House' without the snarky attitude, run the gamut … He also gives readers a revealing insider's view of the culture of medicine, showing the brutal, sleep-deprived grind of a student's internship and residency, warm mentor-student relationships, tense personality clashes between doctors, hair-raising encounters with difficult and downright delusional patients, and the multifaceted strains of underpaid, overworked academic medicine … White-knuckle medical adventures paired with revealing, expert insights."
"BRIEFINGS FROM A DOCTOR'S FOXHOLE" (ISBN: 978-1-47836-306-4) is now available for $9.25 and can be ordered through the publisher's website CreateSpace Independent Publishing Platform:
http://sbprabooks.com/mcolinjordan/, Amazon, or the website of Barnes & Noble.
About the Author: M. Colin Jordan, MD, is a university professor of internal medicine and microbiology living with his wife Pamela in Oregon. He served as chief of infectious diseases for 22 years at the University of Minnesota Hospitals and Clinics in Minneapolis, and at the Oregon Health & Science University in Portland. Earlier faculty appointments were at the University of California, Los Angeles (UCLA Center for Health Sciences) and Davis. In addition to his extensive experience in patient care, he has published over 200 articles on infectious diseases and viruses, especially the herpes group, and possesses an international reputation in his field. Dr. Jordan co-authored two editions of a textbook of infectious diseases (Infectious Diseases: A Treatise on Infectious Processes) published by Lippincott in 1989 and 1994. Briefings From a Doctor's Foxhole is his first book written for general readers, who may never see their physician in quite the same way again.
Author Marketing Ideas (AMI)