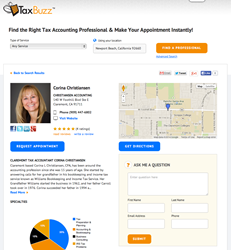 Not all Tax Accountants are the same. Choosing the right partner matters!
Newport Beach, CA (PRWEB) December 22, 2014
TaxBuzz.com, the first online marketplace of tax professionals, announced today the site has reached a critical mass with thousands of completed profiles available to consumers and small businesses nationwide. The site, launched just 45 days ago, offers reviews of tax experts and a professional presence for tax accountants and CPAs that is well indexed in the search engines.
"Nearly 40 percent of accounting firms report not having a website, according to a November 2014 Thomson Reuters survey. Doctors and lawyers already have established marketplaces with ZocDoc and Avvo, and now tax accountants can get the same results," said Lee Reams II, CEO of TaxBuzz. "Our free directory touts the best local accountants with honest client reviews and the ability to make appointments online."
There are more than 500,000 tax professional in the TaxBuzz database of which thousands have "claimed" their profile and provided a photo and additional background about their firm. Traffic to the site is in the thousands per day and growing exponentially.
Barry Gilbert, a CPA in Westlake Village, Calif., said the additional web exposure is already paying dividends for his firm.
"We've booked a number of appointments directly through the site. The reviews have started rolling in, too, which is the real key for a small firm like ours. We expect that third-party credibility to help us grow year-round," Gilbert said. As noted on his TaxBuzz profile, he is a former government tax auditor and tax collector who works with clients in Los Angeles and Ventura County.
Premium profiles include spotlighted placement on the map search results. Add-on tools allow clients to schedule appointments, send appointment reminders, share secure documents, subscribe to a monthly client newsletter, eSign and more, all from their profile.
"The challenges facing local tax accountants are many. Google keeps pushing their listings down the search results pages, and they typically do not have large marketing budgets to compete online. They want to concentrate on what they do best: helping their clients succeed," Reams said. "Finally, TaxBuzz will help provide a new and effective way for tax professionals to be found online by their potential clients."
About TaxBuzz
TaxBuzz.com is a service of ClientWhys, Inc., a privately-held technology firm in Newport Beach, Calif. The free directory service connects consumers with the best local tax accounting professionals. Honest reviews and instant appointment availability take the stress out of finding the right professional to meet your needs. Consumers no longer need to settle for the seasonal tax preparers they find at the big box national firms or worse yet, risk making costly mistakes with do-it-yourself software. The directory includes more than 500,000 professionals nationwide, including thousands with in-depth profiles. Consumers can search by designation, education, service type, geographic location, language or keyword, making it one of the best matching tools on the market. Visit the site at http://www.taxbuzz.com or call 1.800.442.2477 for more information about getting started.