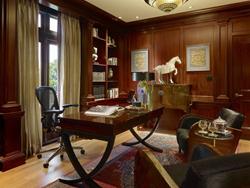 San Francisco, CA (PRWEB) December 22, 2014
Celebrating Bay Area design professionals, San Francisco Design Center's Designers of Distinction awards names Principal Designer Kathy Geissler Best of Kathy Best Design a finalist in their Residential-Traditional category. Judges considered a trio of impressive, large-scale projects before naming Best as a finalist, all of which display a clear mastery of residential design and highlight Best's unique perspective on traditional style.
The projects range from a stately 7,700 sq-ft San Francisco residence, to a grand Californian-style craftsman bungalow, to a stunning new build in Tahoe designed to evoke gorgeous, old world artistry. Although the three projects have vastly different styling and architecture, Best's deep understanding of space planning, impressive implementation of custom furnishings, and gifted eye for beautiful design are common threads that run through all three of the projects.
The 2015 Designers of Distinction gala luncheon will be held during Design San Francisco at the San Francisco Design Center Galleria Atrium on Thursday, February 5, 2015 at 12 noon. Michael Wollaeger, editor of Interiors magazine, will be hosting the awards program. Tickets are available now.
About Kathy Best
Kathy Geissler Best is the principal designer and CEO of Kathy Best Design, an ASID award winning, full-service, interior design firm. Kathy Best Design is located in San Francisco's Jackson Square and maintains a keen focus on primarily high-end residential projects, commercial and office work. The firm has designed signature interior spaces for clients from coast to coast.
Visit our website: kathybestdesign.com