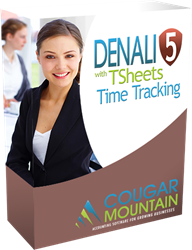 TSheets integration eliminates duplicate data entry and the requirement to manually synchronize separate systems
Boise, ID (PRWEB) December 22, 2014
Last week, Cougar Mountain Software released the latest version of their Denali Accounting software. Denali 5 with TSheets Time Tracking will benefit small businesses that have the need for in-house payroll and comprehensive accounting processes.
In addition to integration with TSheets, Denali 5 includes multiple updates to the Payroll module, including the ability to attach files to employee records, make adjustments to benefits, deductions, and taxes, as well as preview quarterly taxes, process direct deposits for all batches, and update tax codes.
Along with these robust payroll and time tracking features, this release provides reporting enhancements in the Inventory and Sales modules, the ability to post multiple registers in Sales, and a way to update minimum and maximum stock quantities for multiple items in Inventory.
"In 2014 we continued to develop Denali to include the integration of best-of-breed third party solutions. The integration of TSheets Time Tracking is the latest example of this strategy." states Ann Geisel, Product Owner at Cougar Mountain Software. "The integration of TSheets benefits our customers by eliminating duplicate data entry and the requirement to manually synchronize separate systems for accounting, payroll, and time and attendance." TSheets is a mobile, real-time attendance and time tracking solution you can access from any location. When you integrate TSheets and Denali, you reduce the chance of errors in payroll processing, which keeps employees happy.
Dave Haworth, Executive Vice President of Cougar Mountain Software, adds, "Denali 5 continues toward our goal to improve the accounting processes of our small business customers. By concentrating on routine tasks, like payroll attachments and the ability to check for tax updates from the tax code window, we improve efficiency and ensure accuracy and thoroughness." Haworth continues, "We know that accounting software should help businesses make better decisions. Comprehensive reporting continues to be a focus, and Denali 5 allows you to sort and filter by lot number on the Sales History or Profit Margin reports, view the Sales Pure Product report, see totals on the Payroll Direct Deposit report, and find which stock items you need to order on the Below Minimum Quantities report in Inventory. It's this attention to detail that helps businesses make better decisions."
Earlier this year, Cougar Mountain Software integrated with Merchant Warehouse's Genius Customer Engagement System™ to provide customers with a payment system that reduces their processing charges, increases customer satisfaction, and prepares their business for the 2015 EMV liability shift.
About Cougar Mountain
Cougar Mountain Software has provided business accounting, nonprofit accounting, and point of sale software solutions to thousands of retail, wholesale, nonprofit, and service-based businesses around the world. Our 32 years of success comes from two key practices: employing in-house accounting and business professionals for our sales, support, training, and development teams, and listening to our clients. Our team of business and accounting experts provides our customers with the personalized service they need to make the right decisions about their accounting solution.