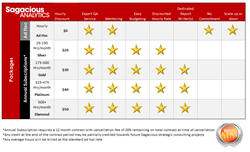 For less than the price of a full-time staff augmentation contract, clients get access to a well-rounded team of business intelligence experts.
LENEXA, Kan. (PRWEB) December 22, 2014
Sagacious Consultants, the premier full-service Epic consulting company, announced it will add a subscription option to their ad hoc report writing service to meet the high demand for report writing services. Customers can sign up for an annual subscription and get a fixed number of report writing hours each month at a deeply discounted hourly rate.
Customers can choose from four pricing tiers, and each has a progressively discounted rate. Subscription hours are contracted in 25 hour increments. Customers can add hours to the subscription and upgrade to the next tier at any time throughout the 12-month contract. Any credits left at the end of the contract may be partially applied towards future Sagacious strategic projects.
Since September, customers have had the ability to engage Sagacious Consultants' report writers on an hourly, as-needed basis, with no commitment required. Customers may continue to use Sagacious resources on an ad hoc basis if they prefer; however, the subscription plans will help customers budget more easily for their report writing needs.
"The subscriptions are another step in establishing Sagacious Consultants as the go-to full-service Epic report writing team," said Shane Adams, Founder and CEO. "We have the most seasoned business intelligence team in the industry, and we want to make it easy for our customers to get the support they need when they don't have sufficient resources to get their projects done internally."
The benefits of the annual subscription service include:

Discounted Hourly Rate: Customers pay up to $50 less per hour with a subscription contract.
Mentoring and Expert QA Service: Customers receive specialized support from the Sagacious Analytics Services (SAS) team whose members average 12 years of BI experience. They mentor customers by walking them through the development, and perform quality assurance checks on every report developed.
Easy Budgeting: Customers pay a standard flat fee each month regardless of how many projects need to be completed.
Dedicated Report Writer(s): Starting with the Gold package, Sagacious assigns one, two, three or more dedicated report writers, supported by the larger SAS team.
High quality BI Solutions: The Sagacious SAS team is designed to be specialized. The SAS team has structured itself to excel in its proficiency in each platform while working together to provide efficient, high quality solutions.
Sustainability: The Sagacious SAS team has developed standards based on industry best practices. Once the solution has been implemented, the SAS developer will ensure there is a smooth hand-off to the customer's team so the solution can be successfully maintained.
"This new pricing option provides great value to our clients. For less than the price of a full-time staff augmentation contract, they get access to a well-rounded team of experts that can handle any request thrown their way," said April Truelove, Director of Sagacious Analytics. "Plus, they still get the benefit of building a relationship and growing trust with an individual consultant through their site lead or dedicated report writer."
Report writing is one service offered under the Sagacious Analytics line. The consulting company employs a variety of assessment tools, training, BI project management, and BI staff extension solutions to help educate healthcare staff, improve revenue numbers, and improve clinical measures.
About Sagacious Consultants
Sagacious Consultants, established 2009 in Madison, Wis., ranks as the top EMR service vendor, according to the 2013 Best in KLAS Awards: Software & Services Report. Now based in Lenexa, Kan., Sagacious Consultants is the premier full-service Epic consulting firm, consisting of 97% former Epic employees. Named one of Modern Healthcare's "2013 Best Places to Work in Healthcare," Sagacious employs over 200 full-time employees in 35 states, and has provided consulting services to over 90 healthcare organizations. Clients range from large multi-hospital networks to academic institutions, pediatric hospitals, and local community clinics. To learn more about Sagacious Consultants' services, visit SagaciousConsultants.com or call 1-855-532-6200.
###