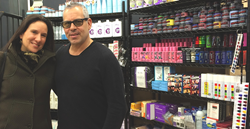 "With today's technology every-one's a star. We have the products to make sure (PROsumers) look the part!" said Kenig.
New York (December 2014) (PRWEB) December 22, 2014
Kenig + Alcone, which opened in NYC earlier this year and is best described by beauty and hair professionals as "a makeup snob's wonderland" has a new brand on the block: Mënaji.
Since the brand's inception, Founder and Celebrity Make-Up Artist Michele Probst, said Menaji's concept was to provide professional coverage easily and discreetly to the everyday man. Some of Michele's clients include, Barack Obama, Enrique Iglesias, Jay Leno, Kid Rock, Larry King, Neil Young, Tim McGraw, and Tom Brokaw.
"I was encouraged to create a line of men's cosmetic products as more and more clients continued to ask me for an easy, at-home regimen that would keep them looking good. That's how Menaji was born. Menaji products were the first makeup products for men specifically formulated to meet the challenges of hi-definition TV and film and were break-out products," Probst said.
"Menaji's products are geared specifically for men to cover up blemishes, dark circles, scratches, bumps, or acne, and are super lightweight, undetectable, and easy to use" said Menaji's Chief Operating Officer, Pamela Viglielmo. Menaji's best-seller, the Camo Concealer, looks like a lip balm and works like an eraser to conceal any marks. Along with concealing products, Menaji also provides healthy skincare and grooming products. Viglielmo said Menaji Holiday Gift Sets such as Camera Ready – Hi Def for Men, and Back Stage Basics for Men are available now at Kenig + Alcone through 2015.
Capitalizing on the Millennials' makeup and hair obsession, or the "PROsumers" as owner and NYC novelty legend Kenig calls them, and Vincent Mallardi, have a combined industry experience of more than 60 years and both have built strong beauty retail stores. Now, said Kenig, they have focused on bringing the most innovative hair care and makeup products, plus cult favorites, on the market for everyone.
Kenig loved the names of the gift sets provided by Menaji. "These kits sum up what our customers are looking for. With today's technology every-one's a star and we have the products to make sure they look the part!" said Kenig.
Kenig + Alcone is located at 6th Avenue and 14th Street. The first floor houses hair and any conceivable product that deals with hair, and the second is makeup heaven complete with make up artists who will service clients with purchases (such as applying false eyelashes free of charge), make up classes and hard-to-find salon skin care. Kenig said that the plan is to open more retail shops in the next few years.
Thinking of ringing in 2015 with the best "New You"? New Yorkers can kick their New Year's game up a notch at Kenig + Alcone who will be doing professional make-up and make-overs with the ultimate sparkle and shine, and apply any product a client buys, such as Menaji Camo Concealer, eye Glitterati and Halo Hair Extensions.
About Menaji
Menaji Skincare, a category leader in the "booming men's grooming" segment of the global beauty industry, was founded in 2000 by Celebrity Make-Up Artist Michele Probst. Sold in the USA and overseas in more than 20 countries, the Mënaji product line is a category-creator in skincare and undetectable skin-tone true cosmetics.