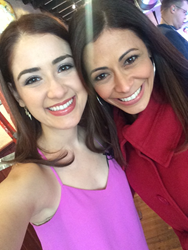 "City Sounds" was conceived to display the variety, multitude and richness of musical talent within the greater New York City area right where the PIX11 audience lives.
New York, NY (PRWEB) December 21, 2014
Effective Immediately PR has partnered with WPIX 11 to premiere "City Sounds" - a two-day segment that will feature eight local NYC and NJ music acts during the 7-8am hour on WPIX 11 TV Morning News on Monday, December 22 and Tuesday, December 23, 2014. Curated from the Ei-PR roster of almost 200 bands, the eight acts each represent one of the five New York City boros and three New Jersey cities, each with a different sound and background.
The eight acts include:
From NYC:
Bridge City Hustle (Brooklyn)
Arjun (Queens)
Ayler Young (Manhattan)
Anais Aida (Bronx)
1WAY TKT (Staten Island)
From NJ:
Allison Strong (Union City, NJ)
Säl Good (Newark, NJ)
Khamaal (Paterson, NJ)
Produced by six-time Emmy Award winner Dave Kimmel, Jr and hosted by Emmy-nominated anchor Lisa Mateo at PIX11, "City Sounds" was conceived to display the variety, multitude and richness of musical talent within the greater New York City area right where the PIX11 audience lives.
Don't miss "City Sounds," hosted by Lisa Mateo on PIX11 Morning News this Monday and Tuesday at the 7am EST hour.
NY City Sounds - airs Mon, 12/22
NJ City Sounds - airs Tue, 12/23
Also streamed live at http://pix11.com/on-air/live-streaming/.
Viewers who miss the TV air time can view it after the air dates online, starting Mon 12/22 at pix11.com/citysounds.
Artist Information:
Bridge City Hustle from Brooklyn
Brooklyn-based funk/soul/rock band Bridge City Hustle formed in the fall of 2012 and is fronted by Brooklyn-bred lead singer, Johnny Burgos. All four members tout impressive resumes as producers and musicians, having worked with hip-hop luminaries, such as Mobb Deep and M.O.P. BCH released their debut project The EP in early 2014 and will release a new album in Spring 2015.
http://www.bridgecityhustle.com/
http://www.facebook.com/Bridgecityhustle
twitter.com/BCHustleNYC
Ayler Young from Manhattan
Born in Berkeley California, Ayler Young has lived in Manhattan for the past 20 years. In addition to being a musician, Young is an entrepreneur and avid arts supporter, is a founding member of The Box Theater in the Lower East Side Manhattan, and worked with Robert Deniro for 7 years building Tribeca Enterprises (includes The Tribeca Film Festival). He started his own disco/soul band in 2012 and released his second album Portal in September 2014.
ayleryoung.com
http://www.facebook.com/ayler.young
twitter.com/AylerYoung
instagram.com/ayleryoung
Arjun from Queens
Born and raised in Queens, Eddie Arjun Peters grew infatuated with the guitar at age 13 and has played guitar in a vast array of musical projects since then. In 2003, Eddie formed ARJUN, a critically-acclaimed guitar-driven instrumental Rock-Funk-Jazz trio, which includes Lamar Myers (drums), and Andre Lyles (bass). The trio independently released their second album Core (second in a trilogy) in September 2014, which features John Medeski (Medeski Martin & Wood) and was mixed by veteran Producer/Mixer Scotty Hard (Wu Tang Clan, Bjork).
arjunmusic.com
http://www.facebook.com/ARJUNmusiclive
twitter.com/arjunmusic
1Way TKT from Staten Island
DJ U-Kno (Christian Reinsch) has lived on Staten Island for the last 12 years, and J. Glaze joined him in 2007 to form the producer/DJ duo 1Way TKT. Both have operated successful recording studios for a number of years on Staten Island, mixing all different influences from jazz to dubstep. They have performed with artists from all genres of music including LMFAO, Nas, Kid Cudi, Talib Kweli and have produced records for major Billboard artists including Wu-Tang Clan, Dogg Pound Gang, and more.
http://www.facebook.com/1WayTKTMusic
twitter.com/1WAYTKT
soundcloud.com/1waytkt
Anais Aida from the Bronx
Born in France and raised in Ireland, France, Senegal, and California, progressive R&B singer/songwriter Anais Aida is a graduate of the Clive Davis Institute of Recorded Music at New York University. Aida's influences result in music with non-conventional rhythms and vocal stylings of classic and modern soul artists mixed in with the attitude of contemporary R&B. Working with producers Alejandro Ghersi aka Arca (produced Kanye West's album Yeezus), Aida, who now lives in the Bronx, plans to release her new full-length album in early 2015.
http://www.facebook.com/AnaisAida
Twitter.com/AnaisAida
soundcloud.com/anaisaida
Allison Strong from Union City
Multi-talented bilingual singer/songwriter Allison Strong hails from Union City, NJ where she was born and raised in the Latin community. Winning "Best Female Solo" and "People's Choice" at the 2013 Hoboken Music Awards, Allison plays both piano and guitar and has performed for former Colombian President Alvaro Uribe, and has appeared on stage at the White House, the Metropolitan Opera, Off-Broadway in last season's Under My Skin, and on Broadway in Bye Bye Birdie and Mamma Mia.
allisonstrong.com
twitter.com/allisonstrong
instagram.com/SingalongStrong
http://www.facebook.com/pages/Allison-Strong/151915914973834?ref=hl
Säl Good from Newark
Born in Bergen County and currently residing in Newark, NJ, Säl Good is an avid member of the Hip-Hop community and considers himself a "conscious" Hip-Hop artist. Säl Good got his start in the snowboard crew known as "Hillside" and is part of the Jersey Based Rap groups "The Woodz" and "151 Feva Nation." Säl Good's debut album "The Goodness" is out now and available on iTunes and Google Play as well as his collaborative album "Goodness Through Woodness" with his group "The Woodz." He has worked and shared stages with many of Hip Hop's greats including Rakim, Slick Rick, Redman, The Outsidaz, The Roots, Naughty by Nature, and The Fugeez. Säl Good is also the first Pro Snowboard Rapper sponsored by Launch Snowboards and Dirty Couture. Säl Good's highly anticipated Sophomore Album "Savage Lyfe" will be dropping early 2015.
http://www.youtube.com/user/salgoodvideo
twitter.com/sal_good
instagram.com/thepoetsalgood
Khamaal from Paterson
Khamaal (born Khamaal Lewis), was born and raised in Paterson, NJ. He started making music in his early teens and learned he could change people with his talent. Since then, Khamaal has performed in NYC (Brooklyn, Harlem, Bronx) and in NJ (Paterson, Hackensack) and opened up for artists STALLEY (signed to MMG), Chris Webby and more. Khamaal has also been featured on MTV's Sucker Freestyle, and he plans to release a new album entitled Samsara in early 2015.
http://www.godbodyrapper.com
http://www.facebook.com/khamaalgodbody
twitter.com/GodBodyRapper
soundcloud.com/khamaal
About PIX11
Founded in 1948 and owned by Tribune Broadcasting, a division of Tribune Media, WPIX-TV (PIX11) has long been regarded as a groundbreaking station in New York. In 2006, PIX11 became the flagship station of the CW Television Network, and its successful primetime programming, award winning news, extensive library of hit movies, first-run programs, off-network sitcom favorites, quality children's programming and public affairs shows, as well as outstanding event coverage, have contributed to the station's success. PIX11 has earned nearly 270 Emmy® Awards including two for Outstanding Morning News Program and multiple Awards for Outstanding Newscast. The station has been honored with numerous other awards for excellence in reporting, news coverage, public affairs, specials and features. In addition, PIX11 has been the broadcast home of the New York Mets since 1999. PIX11 is also home to the New Jersey Lottery drawings. For more information visit http://www.pix11.com
About Effective Immediately PR
Effective Immediately PR is an integrated marketing firm that specializes in creating credibility, buzz and media awareness for bands at all levels and brands. Based in TriBeCa in lower Manhattan with clients throughout the US, Canada, Israel, Japan and Europe, Ei-PR takes a 360 degree approach that encompasses artist development, design, social media strategy, brand consulting, radio promotion and special event opportunities. For more information, go to http://effectiveimmediatelypr.com/.
Media contacts:
Effective Immediately PR: Beatrice Bugnosen / Beatrice(at)ei-pr(dot)com / 212.777.6727 x200
PIX11: Jessica Bellucci / jbellucci(at)tribunemedia(dot)com / 212-210-2626