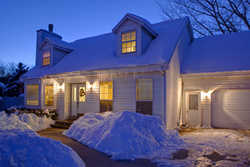 If there is a staircase inside, wrap a nice garland around the handle rail
Chicago, IL (PRWEB) December 20, 2014
Peoples Home Equity knows that as property prices have been rising, there are many homeowners eager to sell their home. However winter often brings a slump in home buyers. This is where staging a home becomes important. Owners want to attract many prospects to their home as possible, not only to close a sale, but for a competitive price.
Peoples Home Equity offers the following tips on how to stage a home this winter:
Curb Appeal: Before anyone looks around the inside of the home, they are going to drive up and see the façade. Make sure the driveway is shoveled of snow and the sidewalk is snowplowed. This may not be needed for a condo high-rise, but for a small 12 unit building where the association may be slow to shovel the sidewall or salt the entrance, one should take initiative. The building should look inviting to the buyer. Setting up some Christmas lights would also be a good idea.
Create Allure: Just like the entrance, the home or condo unit should look spacious and inviting, especially during the winter. Buyers want to feel a sense of warmth and invitation when they walk in. Place a wreath on the door, place some holiday scented pine cones in basket, and light up some cream colored scented candles around the unit to radiate the sense. If there is a staircase inside, wrap a nice garland around the handle rail. Playing holiday music in the background may also add some extra attraction.
Cleanup the clutter and organize: In order for the home to look nice it must be clean. Disorganization and clutter looks confusing. People like to see symmetry and organization, if a picture frame or looks uneven, or furniture is standing crooked, level it out. Make sure wooden furniture is polished and windows are cleaned. There must be zero dishes in the sink and no cup or food lying around the house, the buyer will think the home was not taken care of optimally and may question the condition of the property.
By following these three simple staging tips, ones chance of selling their home this winter should increase. Peoples Home Equity knows there are many existing homeowners eager that have been waiting to sell their home since the recession, but they have just been waiting to recovery their lost equity. Staging the home properly will increase ones chances of receiving and accepting a higher bid for their property.
If searching for a home to purchase and are in need of financing, contact a Peoples Home Equity loan officer today at: 262-563-4026