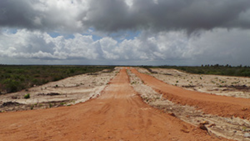 (PRWEB) December 21, 2014
It is the end to another exciting year for the team at Liquid Investments, which has included major developments to the plantation infrastructure, a successful Plantation Tour and the Primal Investing Summit, featuring Jim Rogers as well as the launch of a dedicated website on Neem.
The start of the rainy season in Brazil has focused Liquid's attention on action for the year ahead, and will be the catalyst for major changes on their plantations. The next phase of planting comprises an extra 64,000 of the latest generation hybrid saplings to be planted on Fazenda Palmeira Grande by Q2 2015. Planting is set for the New Year, coinciding with the onset of the rains. 50,000 neem saplings will also be transferred from the nursery on Fazenda Palmeira Grande plantation.
For more than thirty-five years, the founder and CEO of Cohibra, Laerte 'Don Coco' Gurgel, has been a pioneer of agricultural technology and innovation in Brazil. By refining cross-pollination techniques and only using strictly organic procedures, Cohibra has the expertise to grow coconut trees producing the highest yields and superior quality fruit.
Since Liquid's decision to offer neem alongside coconuts as an investment opportunity, they have partnered with a specialist producer of neem-based pharmaceutical and healthcare products based in northeastern Brazil – Organeem. Francisca Elizabeth de Freitas, Organeem's Founder, has over 20 years of experience in floriculture and horticulture, and was one of the first people to introduce neem commercially in the region.
If you would like to get in contact with one of Liquid's investment consultants, simply request a call-back.
Note to Editors:
Liquid Investments is a provider of global investment solutions allowing institutional and private investors the opportunity to accumulate wealth through safe and secure alternative investments in emerging markets.
Founded in 2006, the organisation is headquartered in Knightsbridge, London and with an office in Fortaleza, Brazil.