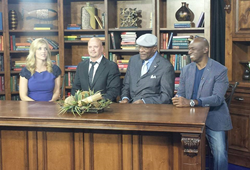 Phoenix, AZ (PRWEB) December 27, 2014
The Living Heart Foundation (LHF) is dedicated to health education, evaluations, database creation, outcomes reporting and a wellness program development founded by Dr. Archie Roberts. The plans for the upcoming third annual HOPE (Heart Obesity Pulmonology Education) Program Super Bowl Symposium are being finalized. The HOPE Program, sponsored by the NFLPA, consists of a series of health evaluations for data collection and wellness for retired NFL players across the country.
A partner of the symposium, Pro Player Health Alliance, will aid in the screening for sleep apnea and provide testing through Pinnacle Home Sleep Testing-a local home sleep testing company serving patients throughout Arizona where the upcoming 2015 Super Bowl and Pro Bowl will be held. David Gergen, President of Pro Player Health Alliance, is the Sleep Apnea Director in the HOPE program. As CEO of the nation's leading manufacturing lab of the FDA approved sleep herbst device used to treat sleep apnea, he and Pro Player Health Alliance will bring extensive knowledge and experience to the Symposium.
The evaluations include blood pressure, body composition, other tests evaluating cardiovascular risk and obstructive sleep apnea testing aimed at educating players about the risks associated with obesity. In addition, there are plans for Pro Player Health Alliance to reunite the Vikings' Purple People Eaters for the Super Bowl. The Super Bowl Symposiums with the Living Heart Foundation are meant to raise awareness of overall health and to help direct the players towards long term solutions for all of their health needs.
For dentists looking to be involved in the Pro Player Health Alliance network, email sfaulkner(at)proplayersleep(dot)com. As a dentist partnered with Pro Player Health Alliance, you have the opportunity to work with the local NFLPA chapters and treat NFL greats when medically indicated. Dentists, experienced and beginning to treat sleep, can also learn more at the upcoming American Sleep And Breathing Academy Sleep Conference in April 2015. To learn more, visit http://asbadental.com.
ABOUT PRO PLAYER HEALTH ALLIANCE
Pro Player Health Alliance (PPHA) is an organization dedicated to helping former NFL players, through providing testing and treatment options for those who suffer from sleep apnea. Since launching in April 2012, over 160 players have been treated through PPHA's "Tackle Sleep Apnea" campaign. Also, the PPHA is dedicated to integrating education and raising sleep apnea awareness, in a fun and memorable way. In addition to the campaign, PPHA is dedicated to testing and getting people who suffer from sleep apnea treated.
ABOUT DAVID GERGEN
As President of Pro Player Health Alliance, he has been a nationally respected dental lab technician for over 25 years. He received the award for "The Finest Orthodontic Technician in the Country" given by Columbus Dental in 1986. He also has been appointed chair of the dental wing of the American Sleep and Breathing Academy, a national interdisciplinary academy dedicated to sleep training and education. He has worked for some of the pioneers in the orthodontic and sleep dentistry fields. One of his proudest achievements is receiving The National Leadership award for Arizona Small Businessman of the Year in 2004.