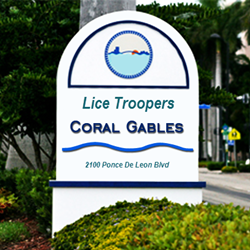 Coral Gables welcomes new lice treatment clinic.
Coral Gables, FL (PRWEB) December 22, 2014
Coral Gables is preparing to welcome the premier all-natural head lice removal service, Lice Troopers, with its new clinic location set to open in 2015. The company, already established in southern Florida, takes the hassle out of dealing with this common childhood parasite by offering full screening and removal services in one of their two salon clinic locations in South Florida, or in the comfort of the client's home or other location.
The decision to expand developed naturally out of the demand for the high-level services the company provides. Said owner Arie Harel, "Parents and schools want a treatment that is not only guaranteed to work on the first try, but one that is all-natural, non-toxic and environmentally friendly. No one has time to deal with an infestation. That's why Lice Troopers has been so successful. The treatment is fast and there's no repeat appointments. And it's safe, which is more than one can say for most common lice treatments."
The new Coral Gables Lice Treatment Center, located at 2100 Ponce de Leon Blvd, Coral Gables, Florida 33134, will open on January 1, 2015, offering full screening and removal services. In addition to the services provided on-site, Lice Troopers also offers a convenient house call service for families in the Coral Gables area, including Sunset, Key Biscayne, Brickell, Coconut Grove, Kendall, Pinecrest and South Miami. And as a Grand Opening promotion, Lice Troopers will be offering free head lice screenings from January 4-7, 10:00 a.m. - 2:00 p.m., on a first come, first served basis.
Lice Troopers looks forward to opening the new location and serving the families and schools of Coral Gables.
Lice Troopers is the all-natural, guaranteed Head Lice Removal Service™ that manually removes the head louse parasite safely and discreetly in two child-friendly salon settings, or other chosen location. Providing safe solutions for frantic families, the Lice Troopers team has successfully treated thousands of families nationwide, with services widely recommended by pediatricians and reimbursed by many major health insurance carriers, flexible spending accounts and health savings accounts.
For more information, contact:
Jennie Harel, President
licetroopers(at)gmail(dot)com
800.403.5423