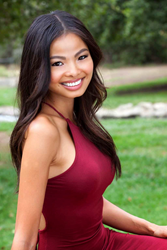 Beautiful vision enhances a beautiful model
Beverly Hills, Ca. (PRWEB) December 23, 2014
A fashion model has to bear the glare of lights. Contact lens can be very irritating and spoil the look of the model on the red carpet. Glasses cover the beauty of the eyes.These vision problems led Hollywood beauty and fashion model Mary Tran to Beverly Hills Lasik eye surgeon Rajesh Khanna, MD.
Dr. Khanna analyzed her eyes, including thickness and shape. He determined that wavefront lasik eye surgery would be the best option.Mary was tense. Her faith in Dr.Khanna allowed her to relax enough to have an uneventful procedure. Her happiness with her newfound vision was infectious. Soon her fashion model friends were making a beeline for Khanna Vision Institute. Many models who were out of town took adanvtage of the lasik virtual consult.
Fashion Industry is a tough industry. People focus on the skin of the models whereas the models need their eyes to focus on the camera.
"Enhancing vision can improve the performance of both fashion and runway models", says Dr.Khanna.
Khanna Vision Institute is located in Beverly Hills adjacent to Flynt publications. It offers the latest technology in lasers including , Visx wavefront, Superlasik, Allegretto and Intralase lasers.