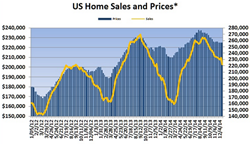 Americans will not be buying as many homes this winter as last summer, but those that do know buy know this may be their last chance at securing a great deal!
Chicago, IL (PRWEB) December 21, 2014
Lenders like Peoples Home Equity were disappointed this week to see that both mortgage applications and median home sales fell week-over-week. However, median home sale prices remained unchanged signaling at least moderate seasonal strength due to American current demand/supply imbalance.
The Mortgage Bankers Association reported its usual "Weekly Application Survey" this Wednesday regarding data for the week ending on December 12th. The institution stated that "Mortgage applications decreased 3.3% from one week earlier." While Peoples Home Equity was hoping for a rise in applications due to a recent 52week lows in mortgage rates, it was understandable to see a decline. Applications had increased 7.3% for the week ending on December 5th.
Due to mortgage rates trend low around 4%, the refinance index remained unchanged while the seasonally adjusted purchase index fell 7%. The influence current mortgage rates are having on refinance vs purchase loans was clearly shown in the data last week as "the refinance share of mortgage activity increased to 66 percent of total applications, the highest level since December 2013, from 64 percent the previous week." The share of FHA loans fell slightly to 8.7% from 9.0% the previous week, and VA loans increased to 10.6% from 9.6%.
In terms of rate changes for major loans types, 30-year fixed mortgage rates fell to 4.06% from 4.11% with points also declining to 0.21 from 0.28 (including origination fee and 80% loan-to-value ratio). The contract rate for a 30-year fixed Jumbo loan (balances of $417,000 and higher) fell to 3.99% from 4.07% but points increased to 0.28 from 0.16. The average contract rates for 30-year fixed FHA loans decreased just marginally to 3.86% from 3.87%.
Besides mortgage applications, weekly median home sales fell -4.5% according to DQnews.com's latest "National Home Sales Snapshot." This decrease represents one of the largest declines in weekly sales for 2014. However, sales still remain 2.1% higher than for the same period of 2013. Further median home sales prices were unchanged week-over-week and remain 2.7% higher than a year ago. Lenders expect seasonal weakness in the winter; however Peoples Home Equity expects median home sale prices to continue to outperform sales by a wide margin. Americans will not be buying as many homes this winter as last summer, but those that do know buy know this may be their last chance at securing a great deal! U.S. real estate is currently experiencing a wide supply and demand imbalance. The amount of demand for housing is outpacing supply. Americans, especially youthful first-time home buyers are eager to purchase homes now due to relative costs. Frequently paying for a mortgage + HOA fees + property taxes + utilities is less expensive than paying for rent! Lending standards have become very strict since the housing bust which has led to benefits like very low seriously delinquency rates on loans originated since 2009. However, these new standards have also left many Americans unable to get approved for a mortgage. People Home Equity is here to help, the lender encourages all prospective home buyers to call or walk into one of its locations today. Peoples Home Equity loan officers will go the extra mile to investigate whether or not a lower credit score applicant can be approved or not.
If in need of a mortgage, contact a Peoples Home Equity loan officer today at: 262-563-4026