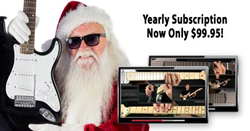 This is the last time we will offer a full one year membership for $99.95.
Beavercreek, OH (PRWEB) December 22, 2014
JamPlay has been a successful educational dot com since their launch in 2007, providing online guitar lessons to hundreds of thousands of customers around the world. They reached profitability just three months after the launch of their site. Re-investing profits helped them to accelerate their growth. Fast-forward 7 years and they are now generating millions of dollars in annual revenue.
Throughout this run, JamPlay pricing has remained consistent. The same prices offered years ago are still in place today. They have been able to help hundreds of thousands of people worldwide become better guitarists. Even with 50x the content for customers and inflation, they have been able to hold strong and continue to deliver an incredibly affordable service to customers throughout the world.
Kevin Wimer, co-founder says, "We love that we have been able to keep prices low for customers. Occasionally, we give guitarists the opportunity to lock in an entire year for just $99.95. We are offering this crazy deal again this holiday season but this will be the LAST time we offer a sale price this low."
The standard membership price for JamPlay will remain unchanged as we enter 2015. However, this is the last time they will offer a $99.95 price for a full year membership.
If you want to improve your guitar playing, now is a great time to dust off that guitar and save yourself some money. Head on over to JamPlay.com.