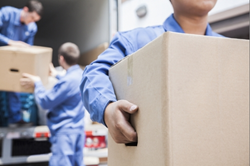 Think carefully before throwing items away
Chicago, IL (PRWEB) December 21, 2014
The Federal Savings Bank, a Midwest based lender, knows that for many of its clients, buying a first home is an amazing but stressful experience. Buyers search through dozens of homes, bid, get haggled over the price, and now, it is finally time to move. With moving comes additional worries, such as renting a truck, packing efficiently, and moving into the new place as quickly as possible. Luckily, moving day can become a cinch with the right amount of preparation.
Follow these steps to be 100 percent ready for moving day with the truck loaded professionally:
Stock up on supplies
Moving is a little like life: Sometimes, one does not know what they need until they don't have it. To avoid moments of panic, stock up on moving supplies before the big day, including boxes, packaging tape, rope, bungee cords, furniture pads or old blankets, mattress covers, and at least one dolly and gloves. Think carefully before throwing items away, they'll likely come in handy when one has forgotten to pack them, such as a bathroom cabinet or a load strap to hold furniture down in the moving truck.
Preplan the truck-filling process
To ensure nothing is broken while on the movemoving, plan how to pack the truck so that the weight is distributed as evenly as possible throughout the whole space. U-Haul recommends loading the truck in tiers. The first level, tier 1, is on the floor and are the heaviest objects. Each tier moving upward should become lighter.
Whether or not one follows the tiered approach, be prepared to load the largest items first, such as mattresses, couches and entertainment units. The large items need to be positioned so that small boxes can be packed in around them. One can also use soft objects like pillows and blankets to fill in the spaces and keep objects from sliding around.
Learn a few tricks of the trade
A neat tip for couches and desks is to pack them on end, instead of with their feet on the floor of the truck. Additionally, for couches or other padded furniture items, encasing them in plastic wrap can help keep cushions secure and shrink them in size just a tad.
For furniture that needs to be taken apart, place all of the screws, nuts and other hardware in a plastic bag, then tape that bag to the piece of furniture. This way, one won't get to their new house and find they can't put something back together.
Thin, breakable items like paintings, pictures and mirrors can be placed upright between mattresses. This way they won't slide around and are protected.
Consider safety
Boxes and furniture can be heavy, so keep safety in mind. The new house won't be much fun if one must lie in bed with a bad back for days or weeks. To avoid injury, making sure the path from the truck to the house is clear of debris to avoid falling. It is also a good idea to have someone looking on as others move heavy objects to warn them when steps are coming.
One should wear closed-toe shoes, or better yet, work boots to protect their feet in case boxes or furniture drop. If it is raining or snowy outside, make sure the shoes have a good tread to avoid slipping. It may also be a good idea to put down salt to avoid ice build up.
Last, but not least, do not try and move something that is too heavy. There is no shame in using a dolly or asking for help.
First-time home buyers should contact The Federal Savings Bank, a veteran owned bank, to learn more about low mortgage rates.