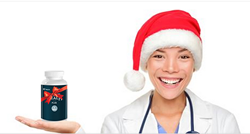 Need a last-minute Christmas gift? Give the gift of health this year with HealthiPlus...
Naples, Florida (PRWEB) December 22, 2014
Give a loved one the greatest gift of all this holiday season, the gift of health and vitality.
For a limited time, HealthiPlus (https://healthiplus.com/christmas-gift-packages/) is offering its three top-selling anti-aging formulas in special Holiday Wellness gift packages at drastically reduced prices and with free rush delivery.
Each bottle contains cutting-edge, proven nutritional support for joints, mental functioning and digestion, areas that don't work as well as we age.
Joint Health Plus contains glucosamine and chondroitin, which, when taken together, can reduce joint pain and stiffness, as well as MSM, a naturally-occurring substance that relieves joint pain and accelerates recovery. Joint Health Plus also contains several essential and healthy fatty acids to reduce joint inflammation, which, according to studies, also reduced joint tenderness and morning stiffness. Antioxidant vitamins C and E can lessen the risk of cartilage damage and halt the progression of osteoarthritis. All of these natural ingredients have the advantage over pharmaceutical drugs of being safe.
CogniHealth boosts brain power and memory, reduces mental "fog" and increases mental clarity, reducing the incidence of "senior moments." Vitamins C, B-vitamins and zinc are are combined with a proprietary blend including ginseng, gingko biloba and metabolism-boosting enzymes to help maintain the proper functioning of the nervous system and improve memory and mental clarity.
BactiHealth helps restore the healthy balance of bacteria in the intestines, which medical research has determined is key to maintaining health and avoiding disease. When "bad" bacteria in the gut take over, the toxicity can cause symptoms such as headaches, colitis, autoimmune disease, fibromyalgia, allergies, heartburn, irritable bowel syndrome, diarrhea, acne, arthritis and depression. Five billion thriving flora in this probiotic help regulate bowel function, provide greater resistance to colds and flus, help your body fight allergic reactions, and help restore mood balance.
Gift package 1 contains two bottles each of Joint Health Plus, CogniHealth and BactiHealth – a total of six bottles – at a special holiday price of $179.94 (a $539.91 value).
Gift package 2 contains 3 bottles of any HealthiPlus product (you choose which product) at 50% off retail value.
Buy today and get free rush delivery for the perfect Christmas gift for grandparents or other health-conscious people in your life.
Pedro Azevedo, MD, a practicing physician and expert on healthy aging known world-wide for his innovative approach to wellness, recommends all three products for increased mental alertness, flexibility and overall well-being. Dr. Azevedo is a world-renowned expert and medical doctor specializing in health and wellness for people over 50
"A pain-free, healthy life is possible for every person," says Dr. Azevedo. "Proper nutrition and the right supplements can keep you healthier, make you live longer, and enjoy the highest quality of life you've ever experienced."
Get any of the Christmas gift packages at HealthiPlu here: https://healthiplus.com/christmas-gift-packages/