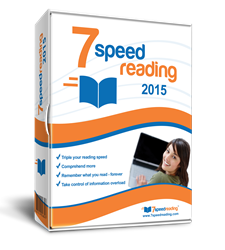 Whether for pleasure, study, or entertainment, e-readers give people access to a wide spectrum of genres through a single device.
New York City, NY (PRWEB) December 25, 2014
Speed reading program developer eReflect shares some ideas on the benefits of e-readers, promoting them as a medium for getting people to read more. While e-readers have some opponents with strongly-held opinions on the value of printed books, eReflect says that it is impossible to ignore the unique benefits of e-books that make them an appealing reading medium for millions of people.
In its blog post on e-readers, eReflect explains how e-readers make reading easier in many contexts. People can easily read while commuting to work or while on a lunch break in the park, and e-readers can even be used to read a best-seller by the pool. E-readers are versatile and rugged enough to be used next to water or in direct sunlight, and can be adapted for indoor or outdoor use. Because they are lightweight yet capable of hosting hundreds of books, e-readers have an advantage over printed books; after all, as eReflect's editor notes, a person can only carry around so many books at once.
"If you frequently favor long reads," the editor continues, "you can testify to how difficult it is to balance a heavy 600-page book in your hand. The heaviness of a book interferes with the pleasures of reading and your cramped fingers and wrist often keep grounding you back in reality, pulling you from the imaginary world of the book you're enjoying. Yikes."
Other e-reading benefits eReflect shares on its speed reading blog include the fact that an e-reader keeps reading material private, since most screens are not visible to other people, and there is no cover facing away from the reader. The same cannot be said for printed books, which immediately reveal the reader's literary predilections.
eReflect explains other benefits of e-reading, and concludes by saying that technology is now offering people an affordable, literacy-promoting tool that more communities and people can take advantage of. E-readers have the potential to promote learning across the board. Whether for pleasure, study, or entertainment, e-readers give people access to a wide spectrum of genres through a single device. People skeptical about e-readers should give them a try, the editor comments, because then they will be able to witness firsthand why people are so fond of e-readers.
************
For more information about the benefits of using 7 Speed Reading, please visit the official website at http://www.7speedreading.com.
About 7 Speed Reading™
7 Speed Reading is the only modern speed reading software that uses the latest technology to produce superior results.
The software provides its users with a new way to master speed reading that guarantees three times the reading speed along with improved memory and comprehension.
The software is poised as the most comprehensive speed reading system anywhere. It contains seven learning strategies, fifteen software activities, video training, advanced tracking capabilities and many more exciting features.