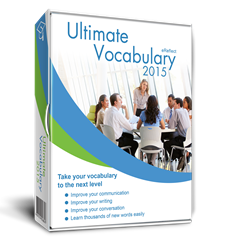 ...having the right words to communicate about issues like these helps put an end to violence.
New York City, NY (PRWEB) December 26, 2014
Ultimate Vocabulary™ developer eReflect shares a Breakthrough video poem by award-winning poet and actor Carlos Andrés Gómez on the company's website. The video is a call to challenge the status quo and end violence against women. The video is part of a wider #AllMen campaign aimed at ending violence against women around the world. eReflect, vocabulary software designer, shares the inspiring video by Breakthrough to raise awareness on the widespread problem of violence against women, something that affects women worldwide irrespective of age, social status, and ethnicity. Gómez's poem "When" serves as a reminder that men can make a difference. If men collectively and individually act, then they can help end all kinds of violence against women and make the world a better, safer, more nurturing place for them.
Ultimate Vocabulary™ helps people improve their verbal advantage and become word smart, and having the right words to communicate about issues like these helps put an end to violence. eReflect believes that people need to understand and respect the inalienable rights of all people —regardless of gender — to be treated well and be safe from harm.
Carlos' poem addresses the many injustices women are faced with. These range from being underpaid and overlooked when the time for a promotion comes, to being ignored, to being terrorized in social settings. Gómez emphasizes the true magnitude of injustice that millions of women across the globe experience every day, and encourages all men to take a stand against it and collectively help end violence against women.
eReflect promotes the message set forward by Gómez in his poem, and hopes it will resonate with many young men. eReflect aspires that this message will help them understand how deeply embedded behaviors like catcalling are, and that these often unconscious acts are harmful and have no place in 21st century society.
As an educational software designer that aims to help people improve their success potential through powerful knowledge and essential skills, eReflect hopes Gómez's poem will touch the hearts of many men and be the springboard for ending violence against all women. Gómez encourages men to overcome their fear and put an end to the violence against women, something that's been perpetuated for far too long.
***********
For more information on how you can benefit from Ultimate Vocabulary, please visit its official website, http://www.ultimatevocabulary.com.
About Ultimate Vocabulary™
Ultimate Vocabulary provides a proven and powerful platform, built to improve anyone's vocabulary.
The interactive self-improvement system provides more learning tools than any other program on the market, as well as more information on words.
The Ultimate Vocabulary software provides each and every user with a personal computer tutor. Providing a step-by-step guide to learning a powerful vocabulary, Ultimate Vocabulary is the learning tool everyone can benefit from.
Of course, the software is also backed by eReflect's iron-clad money back guarantee.