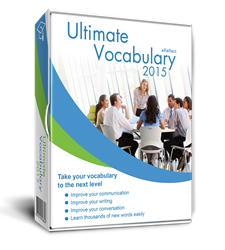 The program helps students improve vocabulary by choosing to practice with vocabulary lists sorted by age or grade.
New York City, NY (PRWEB) December 30, 2014
eTeachersHub.com is a site dedicated to teachers and students, and the site recently promoted the new cloud-based Ultimate Vocabulary™ EDU software. The article emphasizes the ways this is a valuable vocabulary program for both students and teachers, whether they learn English in one-to-one classes or in a more typical classroom environment.
Ultimate Vocabulary™ EDU is now available as a cloud-based program that requires no downloads or updates. The system automatically syncs with the latest activity of each user, no matter where that user accessed it from. eReflect's 2015 Ultimate Vocabulary™ is suitable for one-to-one ESL classes as well as multi-student classrooms, something that the eTeachersHub.com review points out.
"Ultimate Vocabulary™ is a vocabulary builder designed for any type of classroom, whether a teacher is present or not. From self-directed learning without any supervision, to classes with more than 15 students that require rigorous lesson planning and student supervision, the program is intuitive, user-friendly, and feature-rich enough to accommodate any classroom type," eReflect said today.
As eTeachersHub.com notes in their feature on the program, eReflect's software offers plenty of built-in material for students as well as a variety of resources students can use to push their English vocabulary to the next level. The program helps students improve vocabulary by choosing to practice with vocabulary lists sorted by age or grade. Students can also play with the numerous fun vocabulary games as a way to use their newly acquired vocabulary knowledge. In their detailed review of Ultimate Typing™ EDU, eTeachersHub.com said the software is unique in that it offers targeted and in-depth vocabulary learning. The user doesn't simply learn a word's spelling and definition, but also associated word information that makes that knowledge complete. The user also gets to study a word's pronunciation, synonyms, antonyms, spelling, and etymology, as well as real examples of how it's used in various contexts so that the learner can sense the variance in meaning.
The review concludes by praising a valuable feature of Ultimate Vocabulary™ EDU: its flexible subscription plans that let teachers find the one that suits their students' needs and vocabulary goals. Being able to match budget to learning is something not many vocabulary software systems provide, the reviewer at eTeachersHub.com concludes.
***********
For more information on how you can benefit from Ultimate Vocabulary, please visit its official website, http://www.ultimatevocabulary.com.
About Ultimate Vocabulary™
Ultimate Vocabulary provides a proven and powerful platform, built to improve anyone's vocabulary.
The interactive self-improvement system provides more learning tools than any other program on the market, as well as more information on words.
The Ultimate Vocabulary software provides each and every user with a personal computer tutor. Providing a step-by-step guide to learning a powerful vocabulary, Ultimate Vocabulary is the learning tool everyone can benefit from.
Of course, the software is also backed by eReflect's iron-clad money back guarantee.