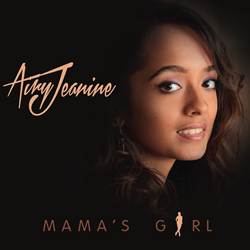 "I love to write. Writing helps me express my feelings. Performing for me is like second nature…on stage I can just be myself" ~Airy Jeanine
Franklin Lakes, NJ (PRWEB) December 23, 2014
AIRY JEANINE. A name to remember. She is an emerging teenage Singer/Songwriter-Actress coming into her own with the release of a debut song "Mama's Girl", on the KMina Entertainment label.
The brilliant future of the rising multi-media star begins with a campaign slated with Music, Video, and Television projects. The versatile and talented young entertainer is ready to step into the spotlight, leading off with a Pop song geared for audiences and consumers worldwide. Artfully expressed, the catchy and genuine song, "Mama's Girl" will resonate with peers all over. Her easygoing melodic vocals exude a reserved ambience. Interspersed with dynamic upbeat rhythms, the complementary combination results in a winning formula. A widespread marketing campaign is being instituted, beginning here in the U.S, and to further extend to the International marketplace.
Production of her debut album is continuing with songs from a network of hit makers, comprising of producers, songwriters, musicians, and engineers, who have worked on songs for Grammy and American Music award winners and nominees alike. The "Mama's Girl" single release is available via Digital Distribution channels including: iTunes, Google Play, Amazon, eMusic, etc. Pre-Order sales started December 15, 2014.
As an integral part of the rollout campaign, KMina Entertainment is prepping for a Release Launch Party, January 1, 2015.
AIRY JEANINE is a skilled multi-instrumentalist. With a performing repertoire that is precise and focused, she is on course to a future that is unfolding with great promise. The blossoming performers' inclinations began in her formative years, participating in ballet and acting, and later incorporating music and singing as a part of her early interests. She continues to develop and is perfecting her artistry with sights on the upper echelon of popular entertainers. Aligned with an all-star production and marketing team, she is on a mission to create and unveil a body of work that explores various facets of life experiences from her youthful and keenly perceptive vantage point.
Ariana Grande, Adele, Passenger, Lady Gaga, Ed Sheeran, and Miley Cyrus are among her musical influences. She expresses a connection with such artists contributing to her evolving song mastery that is destined to give her Pop acclaim as she distinguishes herself. In pursuit of her dream, as a songwriter she is passionate about the words she puts to her songs. Her vocal styling is deftly united with complementary music that will satisfy the appetite of craving young audiences. She hopes to inspire with her songs and performances, with a goal to reach and touch tens of millions of people.
Stepping into the spotlight on varied media platforms, the multi-faceted teenager has a hectic schedule that now includes work on the pre-production of a music video, and a lead-starring role in a TV pilot. Casting calls are being scheduled in the New York-Metro area.
AIRY JEANINE is infused on social networking platforms and plans are in the works for collaborations to develop merchandising items and media based interactive projects. Domestic and International pursuits are being explored for sponsor partnership opportunities to expand her brand. She's on a track to become the next brightest star in the entertainment arena!
Website: http://www.airyjeanine.com
Facebook: http://www.facebook.com/airyjeanine
Twitter: http://www.twitter.com/airyjeanine
With this initial release, KMina Entertainment is poised to impact the changing industry landscape, leading off their 2015 release schedule for AIRY JEANINE with the confidence that this is just the start of big things to come. They are on the verge and have a stellar team in place to make it happen. With savvy business acumen to develop and build her brand, they will be leading and guiding the various facets of her entertainment ventures to ensure long-term success on many fronts.
About KMina Entertainment
Based in Franklin Lakes, NJ, the company is an efficiently run start-up entertainment entity that produces, promotes, and markets music, video and related multimedia projects. It is creating a solid foundation for its artist to grow in a focused long-term environment.