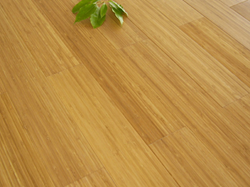 (PRWEB) December 26, 2014
The click strand woven bamboo flooring from BambooFlooringChina.com combines beauty, strength and durability. Today, the business announces a click strand woven bamboo flooring promotion, which is valid until Jan. 30, 2015.
Click strand woven bamboo flooring replicates the grain of traditional hardwood. BambooFlooringChina.com is a well-known brand in the bamboo industry. It promises to help consumers worldwide to find a reliable bamboo flooring supplier.
"We are happy to announce the promotion; our click strand woven bamboo flooring models are offered now at discounted rates, up to 29% off. Click strand woven bamboo flooring is the hardest product in the bamboo flooring industry today. Our Bamboo flooring is made with a cold-press process, which helps to achieve a greater uniformity in density, color and moisture content." The senior engineer or the company says.
Bamboo is a fast-growing and sturdy tree-like grass, making it a highly renewable resource. All the bamboo products from BambooFlooringChina.com are famous for modern designs and reasonable prices. Their bamboo products are 100% made from natural bamboo. Bamboo flooring, bamboo mats, bamboo carpets and bamboo panels are very popular in the global market.
About BambooFlooringChina.com
BambooFlooringChina.com has been making high quality bamboo products for many years. It is selling a huge selection of elegant items for the international customers: strand woven floorings, lumbers, outdoor deckings, plywoods, fences and so on. The company always strives to benefit all its old and new clients; its top designers are working hard to make more durable items.
For more information about its new items, customers can visit: http://www.bambooflooringchina.com/products/click-strand-woven-bamboo-flooring.html