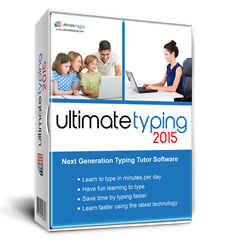 Improving your keyboarding skills doesn't have to feel like a chore...
New York City, NY (PRWEB) December 31, 2014
Ultimate Typing™ 2015 is the new cloud-based typing software by eReflect, the company announced today. Ultimate Typing™ 2015 offers the best of existing features as well as new enhancements for anyone who wants to improve their typing efficiency through engaging activities and fun games.
With Ultimate Typing™ 2015, eReflect introduces its second cloud-based software. Using cloud technology allows users access to its full features and activities anywhere, anytime. eReflect believes that Ultimate Typing™ 2015 will meet the demands of discerning customers who prefer to learn in a social, mobile context. Not only is Ultimate Typing™ available on the cloud, it also introduces some social aspects to make practicing typing feel less like learning and more like play.
Users can practice their typing skills on any computer and keyboard-based handheld, compare notes with fellow users and friends, and share their typing progress on social media, eReflect explains.
Popular features that make Ultimate Typing™ a reviewer's favorite, like its video tutorials, addictive games, and progress tracking technology, are all included in the 2015 version of the typing program. Users can still practice with any Wiki article or import their own lessons for a more personalized learning experience, as eReflect reminds readers.
"Improving your keyboarding skills doesn't have to feel like a chore", eReflect spokesperson said today. He continued, "In Ultimate Typing™ 2015, users get to practice with all those features that make Ultimate Typing™ so unique in its approach to teaching touch typing. Plus, we are introducing some fun new technologies like sharing your progress on Facebook with all your friends. We have also made Ultimate Typing™ a cloud-based program, for instant access from anywhere. Effectively, you can have a short typing practice in the morning before you head for the office, and resume from your office's computer right from where you left off. It's all in the cloud, it's all synced."
With everything stored in the cloud, users have the flexibility and ease of access that lets them practice from anywhere, anytime. This gives them better control over managing their touch type practice practice sessions, and helps them improve their keyboarding skills in less time.
*********
For more details on Ultimate Typing™ please visit http://www.ultimatetyping.com/.
For more details on Ultimate Typing™ EDU please visit http://www.ultimatetyping.com/schools.
About Ultimate Typing™
Ultimate Typing™ software is designed specifically for the improvement of typing skills. Created by eReflect, a world leader in e-learning and self-development software, Ultimate Typing™ has been informed by the latest developments in the science of touch typing.
Since its creation in 2006 by Marc Slater, the company has already catered to over 112 countries all over the world, offering products with the latest cutting-edge technology, some of which are among the world's most recognized and awarded in the industry.