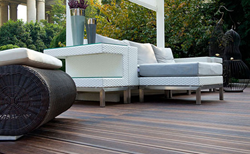 (PRWEB) December 28, 2014
Recently, BambooFlooringChina.com has added a new outdoor strand woven bamboo decking collection to its product catalog. Today, BambooFlooringChina.com launched a special offer on its bamboo decking products for the customers worldwide.
The sales manager of BambooFlooringChina.com said, "Bamboo decking is made of strand woven bamboo with outdoor glue and oil. Bamboo decking can transform your yard and adds a new dimension to your exterior décor. We can expect a shopping wave of bamboo products in the spring 2015, and this promotion will help us to expand our market share."
The outdoor strand woven bamboo decking from BambooFlooringChina.com may be an excellent choice to replace an existing deck in a home. Buyers around the world will be impressed with the trendy designs and dedicated craftsmanship. According to the manager, all of the products from BambooFlooringChina.com are said to exceed E0 or E1 standards from Europe and the CARB standard from the United States.
"Bamboo products are environmentally friendly. We are a leading bamboo product manufacturer and we can make custom designs based on customers' special requirements. Orders at our website will be delivered in 2-4 weeks. The company aims to help its clients enjoy the natural life in this era of business," the CEO of this company says.
About BambooFlooringChina.com
BambooFlooringChina.com has been making high quality bamboo products for many years. It is selling a huge selection of elegant items for the international customers: strand woven floorings, lumbers, outdoor deckings, plywoods, fences and so on. The company always strives to benefit all its old and new clients; its top designers are working hard to make more durable items.
For more information about its new items, customers can visit http://www.bambooflooringchina.com/products/product-type-BambooDecking.html.