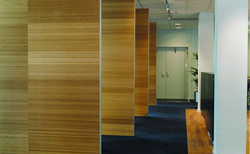 (PRWEB) December 30, 2014
Bamboo veneer is sliced from rapidly renewable bamboo blocks; it is an exotic and green material for replacement of wood veneer. The famous bamboo flooring company, BambooFlooringChina.com, recently introduced its exotic bamboo veneer sheet collection and launched a bamboo veneer sheet promotion.
"Our stylish products come in a variety of colours and finishes and are available in various sizes and thicknesses, all available for domestic and commercial applications." The senior sales manager of the business says.
BambooFlooringChina.com was considered as a leading supplier and exporter in the bamboo industry. Each piece of the bamboo veneer sheets from this company comes with its own character and individuality. This means each piece of bamboo veneer sheet is not uniform, but unique in appearance.
BambooFlooringChina.com is certified by the ISO9001:2000 systems and has a special team in charge of the "5S" management system; the supplier knows that few people can afford the expensive bamboo flooring from a retail shop, which is why it works hard to provide affordable bamboo flooring products for its current and prospective customers.
About BambooFlooringChina.com
BambooFlooringChina.com has been making high quality bamboo products for many years. It is selling a huge selection of elegant items for the international customers: strand woven floorings, lumbers, outdoor deckings, plywoods, fences and so on. The company always strives to benefit all its old and new clients; its top designers are working hard to make more durable items.
For more information about its new items, customers can visit: http://www.bambooflooringchina.com/products/bamboo-veneer.html