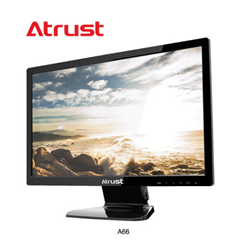 Taipei, Taiwan (PRWEB) January 08, 2015
Atrust A66 powered by a Freescale quad core processor and designed to help business thrive with outstanding performance, security and manageability.
Atrust A66 supports up to 1920 x 1080 HD resolution, remote connection and a close-to desktop experience. It is equipped with four USB ports of connectivity. Atrust thin client comes with Atrust Client Setup (ACS) software built-in, a local client management console to help the user effectively manage it. With Atrust Device Manager (ADM), another management tool for massive Atrust thin clients, IT staff can set up one profile on ADM and apply it to all thin clients. The management becomes simple and easy. All data are centrally controlled and securely stored on the server, which increases security and lowers the budget for IT management.
Including the stand, the dimensions of Atrust A66 are (W) 512.8 x (D) 143 x (H) 379 mm and it weighs approximately 3.2kg. The space-efficient design of A66 keeps desktop space usage to a minimum. Maximize available workspace by placing A66 anywhere you need for a virtual deployment. For more information, please contact Atrust sales at sales(at)atrustcorp(dot)com
Specification
Thin Client: A66
Processor: Freescale ARM Quad Core
System Memory: 1GB
Flash Memory: 4GB
LCD Type/Resolution: 21.5" LED Backlight / 1920x1080 pixel
I/O ports: 4 x USB, 1 x Headphone port, 1 x Microphone port, 1 x RJ-45, 1 x DC IN
Networking: 10/100/1000Mb
OS: Atrust Linux
Dimensions: (W) 512.8 x (D) 143 x (H) 379mm (with stand)
Protocols: Citrix ICA/HDX, Microsoft RDP with RemoteFX,
VMware: Horizon View