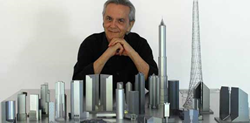 Santa Monica, CA (PRWEB) December 22, 2014
Eli Attia, considered one of the world's foremost experts in designing high-rise towers, has sued Google, Flux Factory Inc., and the founders and top executives of both companies for alleged misappropriation of trade secrets, breach of contract, slander of title, unfair competition and fraud. Attia, partnered with technology firm Max Sound Corporation (OTCQB: MAXD), filed the complaint (Case: 114CV274103) in Santa Clara County Superior Court earlier this month.
The complaint stems from the intellectual property behind a technology solution designed to shorten and make significantly cheaper the design and construction process while reducing global carbon footprints and increasing housing availability.
Flux Factory began life in 2012 as one of the earliest Google X ideas. According to a company release, the firm exists to develop technology that helps architects and builders design houses and offices more efficiently, while meeting rising demand for new structures to hold families and workers. In May, Flux raised $8 million in funding to address technology solutions that improve inadequate building design, antiquated technology and poor construction quality.
Lawyers with the Dallas firm Buether Joe & Carpenter assert that Flux is founded on intellectual property stolen from New York architect Eli Attia, and Max Sound that bought the authority to enforce Attia's intellectual property rights.
During the course of the companies working together, Google estimated that engineered architecture has a $120 billion potential annual revenue. Attia and Max Sound are suing for compensation.
John Blaisure, CEO of Max Sound Corp. says, "We are absolutely committed to safeguarding and protecting our valuable IP assets."
About Max Sound Corporation: As creators of acclaimed MAX-D HD Audio, Max Sound provides a better solution for Audio, Video and Data transmissions. Max Sound is the company that brings forth technologies for the betterment of our world, including VSL's Optimized Data Transmission Technology. Max Sound®, MAXD® and MAX-D Audio Perfected® are registered trademarks. All other trademarks are the property of their respective owners. To learn more about the MAX-D Technology, please visit http://www.maxsound.com.
SAFE HARBOR STATEMENT UNDER THE PRIVATE SECURITIES LITIGATION RE-FORM ACT OF 1995: Statements in this press release which are not purely historical, including statements regarding Max Sound's intentions, beliefs, expectations, representations, projections, plans or strategies regarding the future are forward-looking statements within the meaning of the Private Securities Litigation Reform Act of 1995. The forward-looking statements involve risks and uncertainties including, but not limited to, the risks associated with the effect of changing economic conditions, trends in the products markets, variations in the company's cash flow or adequacy of capital resources, market acceptance risks, technical development risks, and other risk factors. The company cautions investors not to place undue reliance on the forward-looking statements contained in this press release. Max Sound disclaims any obligation and does not undertake to update or revise any forward-looking statements in this press release. Expanded and historical information is made available to the public by Max Sound Corporation and its Affiliates on its website http://www.maxsound.com or at http://www.sec.gov.