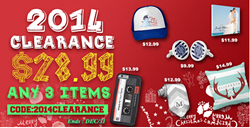 (PRWEB) December 23, 2014
Recently, Snapmade.com has introduced its new collection of 2015 Personalized Gifts to its global fans.
To kick off 2015, Snapmade is launching a mind-blowing New Year's Clearance Sale. In the promotion, any order with three (or more) designated products will only cost $28.99! The sales manager of the business says, "We are looking forward to clearing our inventories and having a new start in 2015. Get ready for your custom gifts and let's start here."
The vigorous expansion of computer technology has largely improved people's shopping experience in many aspects. Online retailers have expanded on a growing scale due to lower costs and flexible business operation modes. Consumers can customize everything they like, such as a picture, slogan and more. The marketing manager of Snapmade has said, "Everyone wants to be special, and our business mode can definitely satisfy their need to be different. Our top goal is to serve our customers and do our best to help people make custom gifts."
As shown in a recent survey of Snapmade, 80% of people have the tendency to design their own Personalized Gifts. This has been a new fashion among many people to attract more attention in the crowd by wearing or taking custom goods. The data have also revealed that nearly 90% of families have chosen to prepare meaningful Christmas gifts using their favorite photos. It can be easily predicted that people's lives will be greatly influenced by this business mode in the near future.