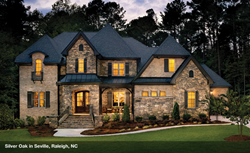 Clearwater, FL (PRWEB) December 22, 2014
Arthur Rutenberg Homes, a luxury home builder in 6 states, released and article about last-minute party planning.
The article focuses more on the ideas to pull off a last minute holiday party than the issues surrounding needing to pull one off. Venues cancel, plans change, but having a luxury home with space to have people gather lends itself to being asked to host parties and so putting together a plan very quickly can come up.
The article focuses on the how to get a party together, including food, music, and even parking. The article points out that it is simply not enough to simply tell a large group of people to just "come over".
Additionally the article illustrates that to pull off a holiday party at the last minute, one will need to marshal external resources to make plans run smoothly. Resources like cleaning and even valet services for guests may actually be less money than expected and can make a big difference when hosting a party in a home.
The article also focuses on ways that hosts will not have to over spend, like simply using an MP3 player for holiday themed music instead of hiring a DJ. This can simplify things as well as conserve space and reduce costs.
The last minute party planning article offers advice on pulling off a party with a short period of time and still be successful.