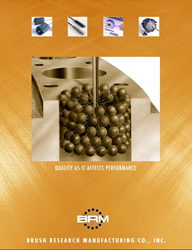 By imparting a plateau finish to valve stem walls, BRM's flexible hones improve lubrication and support engine performance.
Los Angeles, CA (USA) (PRWEB) December 23, 2014
Brush Research Manufacturing (BRM), global supplier of flexible cylinder hones and brushing tools, is announcing an article about how Flex-Hone® tools improve the inner diameter (ID) surface finish of valve stems. By imparting a plateau finish to valve stem walls, BRM's flexible hones improve lubrication and support engine performance.
The causes of engine valve failure are numerous, and the consequence can range from loss of engine compression to part failure. With engine valve stems, part wear can cause blow-by, poor valve seating, and excess oil consumption. Worn valve stems can also retain too little oil, become burnt, and require replacement. Related valve train components called valve guides can also become worn.
Performance Starts with the Finish
As BRM's technical article explains , performance starts with the finish. Worn engine valve stems are a problem, but new valve stems from OEMs and suppliers of aftermarket auto parts also need the right surface finish. That's why engine mechanics use BRM Flex-Hone® tools to impart a plateau finish with oil-retaining valleys that promote lubrication and reduce friction and wear.
Flexible cylinder hones are available in diameters from 4-mm to 36-in, and come in 8 abrasive types and 11 grit options. Designed for use with most any rotating spindle, BRM ball hones feature abrasive globules or balls that are permanently laminated to flexible nylon filaments. Flexible honing tools are self-centering and self-aligning to the bore, and do not require any special training or instruction.
Valve Stem Surface Finishing
In Quality As It Affects Performance, a technical book from BRM, the maker of the Flex-Hone® tool shows how its flexible cylinder hones improve surface finish. The intake and exhaust valves that BRM purchased at an auto parts store had "no particular surface pattern to hold or retain or spread oil", the technical book explains, and "the heat and friction can only be imagined."
By using a 240-grit boron carbide Flex-Hone®, however, the valve stem's surface pattern was improved to a plateau finish. Scanning electron microscopy (SEM) provides before and after images in 100X and 1000X magnifications. Quality As It Affects Performance also shows how flexible honing improves the surface finish of auto parts such as shafts and master cylinders.
About Brush Research Manufacturing
Brush Research Manufacturing (BRM), makers of flexible honing tools and a full line of automotive and diesel brushes, is located in Los Angeles, California. For over 55 years, BRM has been solving surface finishing challenges with brushing technology. BRM's Flex-Hone® tool is the industry standard against which all other ID surface finishing are compared.
Media Contact
Heather Jones
Director of Marketing
Brush Research Manufacturing Co. Inc.
4642 Floral Drive
Los Angeles, CA 90022
HJones(at)brushresearch(dot)com
Ph: (323) 261-2193