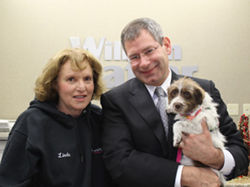 Buffalo, NY (PRWEB) December 22, 2014
William Mattar, P.C. recently organized two drives to collect items for charitable organizations. The first was a book drive for Operation Paperback, an organization that collects and distributes paperback books to service members and veterans around the world. Firm and community support for the drive was strong with thousands of books collected in just a few weeks.
The second drive was also a success, with the firm collecting several large boxes of pet food and supplies as part of their Rescue a Shelter Animal month. This year, Precious Paws Rescue and Heart of Niagara Animal Rescue were chosen to receive the donated items.
William Mattar, P.C. has a strong commitment to supporting the community and is involved in numerous safety initiatives and community programs throughout the year, including the Buckle Your Belt, Pencils 4 Schools, Going Pink, and Safe & Sober Free Ride Home programs. For additional information on the firm's community involvement, please visit http://www.williammattar.com/community.
About William Mattar, P.C.
William Mattar established his practice 25 years ago in Buffalo. With a focus on helping those injured in auto accidents, the firm now represents clients across New York State including the Rochester, Syracuse, Binghamton, and Albany regions, with a principal office located at 6720 Main Street in Williamsville, New York. For more information, please visit http://www.WilliamMattar.com or call 444-4444.