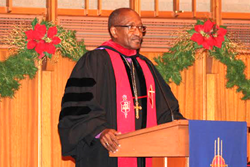 As the world becomes smaller, our need for God has never been larger.
Dayton, OH (PRWEB) December 23, 2014
Bishop Marcus Matthews of the Baltimore-Washington Conference of The United Methodist Church addressed 41 graduates of United Theological Seminary on Dec. 19 during his sermon titled "Set Apart to Serve." The Seminary awarded 13 masters degrees and 28 doctoral degrees at the Advent Commencement service, held at Christ United Methodist Church, Kettering, OH.
Bishop Matthews emphasized the importance of being well prepared to serve God in a turbulent and complex world by balancing personal piety with social holiness.
"You must marry the historical Christian faith upon which the church is founded with the ability to speak prophetically about the issues of today and tomorrow using the means that are relevant today," he said. "We live in changing and turbulent times, and as the world becomes smaller, our need for God has never been larger."
Bishop Matthews urged the graduates to be more concerned with meeting individual needs than meeting the needs of the institution.
"God is blessing you to go forth from this great institution to be set apart for a special ministry," he said. "Be a blessing to those you are called to serve and you will be blessed by God."
To see the entire Advent Commencement ceremony, click here.
United Theological Seminary, now in its 144th year, is one of the fastest growing theological schools in the United States. It was founded in 1871 by Milton Wright, a Bishop in The United Brethren Church and father of Wilbur, Orville and Katharine Wright. United offers accredited, innovative graduate and non-degree education programs for both clergy and laity. Click here for more information.