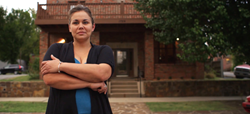 The cost of doing nothing in the community, and leaving people to be homeless, is far greater than providing housing and support services. - Mike Brose, Executive Director, MHAOK
Tulsa, OK (PRWEB) December 23, 2014
Tulsa is proving that there is an end to chronic homelessness in sight. And it's a model that can be replicated across the country.
Mental Health Association Oklahoma's BetterBox Project is a community awareness campaign supporting Housing First; a proven model for ending chronic homelessness in Tulsa. The campaign raises financial support for Housing First, which is an approach to ending homelessness that centers on providing people experiencing homelessness with safe and affordable housing as quickly as possible – and then providing services as needed, such as access to support groups, advocacy, treatment, legal counseling and other community supports.
100% of BetterBox Project donations stay in Tulsa to support Mental Health Association Oklahoma's nationally recognized housing and recovery programs. Because of these programs, and others like them in the community, Tulsa is on pace to end chronic homelessness in the next two years. Tulsa currently has less than 100 people who are considered chronically homeless, meaning they have been homeless for a year, or four times in the past three years.
Mike Brose, executive director of Mental Health Association Oklahoma said, "We think, 'It will never happen to me. I will never be homeless.' And we see it time and time again, successful members of our community impacted by mental illness end up on the streets. It really can happen to anyone. It's our job to support the Housing First model to make sure these folks have a place to sleep at night, to support our fellow community members. This is truly a proven, viable solution. We can end chronic homelessness. We just need your support."
"The cost of doing nothing in the community, and leaving people to be homeless, is far greater than providing housing and support services," Brose continued. "As a community, this proactive approach reduces expensive emergency room visits, cuts down on police and ambulance calls and is more humane."
The BetterBox Project campaign features documentaries of Tulsans who were once impacted by homelessness. They have successfully found housing and treatment through Mental Health Association Oklahoma's housing and recovery programs.
The mission of BetterBox Project is to create awareness about the solution to ending chronic homelessness while raising funds to support the Housing First model. Participants can donate at http://www.betterboxproject.org, or by calling Mental Health Association Oklahoma at 918-585-1213. The campaign encourages a recurring monthly donation of $5 - $25 per month.
Mental Health Association Oklahoma is an advocacy voice representing people impacted by mental illness and homelessness in communities throughout Oklahoma. For more information about BetterBox Project, visit http://www.betterboxproject.org.
###