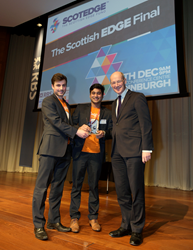 The Scottish Edge competition has recognised our goal of making a difference in Scotland's high streets.
Glasgow, UK (PRWEB UK) 24 December 2014
Swipii is excited to announce that it won an award at the prestigious ScottishEDGE finals endowed by Sir Tom Hunter on Tuesday 9th December at the RBS Conference Centre in Gogarburn, Edinburgh, and comes as the company is poised to expand its innovative loyalty and marketing platform outside Scotland.
The prize of £20,000 will allow Swipii to hire new staff to further support its successful expansion across the UK and to enter international markets in the new year. The award recognises Swipii's innovative small business loyalty and marketing platform and the benefits it lends in closing the technology gap between small and large businesses.
Long Live Local
Swipii's tablet-based system allows businesses to create bespoke loyalty programmes replacing traditional paper punch cards with a points-based system of fun and unique rewards.
Through repeat visits, Swipii users can earn rewards such as "Any Hot Drink Absolutely Free" from McCune Smith Cafe, "25% Off Your Prefered Styling Product" from Rebel Rebel barbers or even "Return Ticket To Italy" from La Vita Italian Restaurant!
Swipii co-founder and COO Louis Schena said "The EDGE competition is highly recognised not only in Scotland but also in the UK. The credibility this brings us as we grow bigger means a lot. We already have a team of 7 and the money will help hire 3 more full-time staff to improve our services and grow across the UK."
Fellow co-founder and CEO Chitresh Sharma added "The Scottish Edge competition has recognised our goal of making a difference in Scotland's high streets. We want to empower local businesses and this award shows the public how important 'local' is, especially our mantra of 'Long Live Local'."
Expansion out of Scotland
Founded in Glasgow by former students of the University of Strathclyde, Swipii has recently expanded outside of Central Scotland, with independent stores in London signing up. Swipii is aiming to expand to more UK markets, and overseas into the European market in the new year.
About ScottishEDGE
ScottishEDGE is styled as a 'Dragon's Den'-style competition rewarding entrepreneurialism and encouraging and supporting high-growth businesses to build Scotland's success as an entrepreneurial nation. The Scottish EDGE is led by a Board of seasoned entrepreneurs, bankers and public sector supporters. In essence Scottish EDGE is a £5m+ fund endowed by serial entrepreneur Sir Tom Hunter, the Royal Bank of Scotland PLC and the Scottish Government.
About Swipii
Swipii is a tablet-based digital loyalty solution for SMEs to bring their customers back more often. We work with local businesses to create bespoke loyalty programmes with rewards specific to each individual business to reflect the store's personality, culture and business objectives.
We place a tablet at the point of sale and give customers the ability to use a single card or app at all participating locations. In addition to increasing customer engagement, Swipii allows merchants to give deals to their loyal customers, as well as enter cross-promotional deals with non-competing merchants.
Swipii's mission is to help small and local shops bring their business into the 21st century. Since launching in Glasgow in May 2014, it has spread to more than 80 businesses and 27,000 users across Scotland and London.
To see a full list of the businesses using Swipii visit http://www.Swipiicard.com/locations.
Press contact
For more information contact Andrew Bruce at Swipii at Andrew(dot)bruce(at)swipiicard(dot)com or call 0800 368 7416.