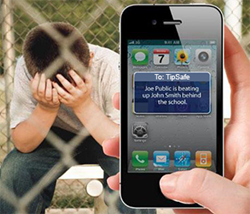 TipSafe provides an anonymous tool for reporting bullying, crime and suspicious activity.
San Francisco, California (PRWEB) December 23, 2014
Regroup has announced the release of TipSafe, an anonymous tipping system that will enable its clients to receive anonymous tips from witnesses, victims and other members of the public sent from a mobile phone. TipSafe's flexibility will provide for anonymous two-way texting and enable anonymous text messages to be routed to the appropriate authorities in a variety of formats, across multiple devices.
Anonymous tips can be received:

As a text or voice message on mobile phones
As an email on computers and other internet enabled devices
As a voice recording that can be routed to a voicemail system
When asked about the reason for developing this new feature, Regroup CEO, Joe DiPasquale said, "People may not step forward with critical information unless their identity is protected. With TipSafe, Regroup offers a means of proactively gathering situational intelligence to stay ahead of potential crises."
Because the TipSafe system integrates with Regroup's Emergency & Mass Notification System, users will not have to utilize multiple systems and can manage all of their communications from one easy-to-use interface. There is no special software, apps or databases required.
Institutions in all sectors will benefit from the situational intelligence that can be gathered from anonymous tippers. In conjunction with other delivery methods, institutions can leverage TipSafe's text-to-speech capabilities to route the anonymous tip to a dedicated voicemail system or private forum group. With the implementation of anonymous tipping technology, employees, students, customers and other members of the community will then feel safe to report incidents they otherwise might be hesitant to share.
TipSafe can be implemented in industries and situations such as:
Colleges & Universities

Cyberstalking
Sexual Assaults
Violations of the Clery Act
K–12 Schools

Bullying
Abuse
Theft & Vandalism
Hospitals

HIPAA Violations
Patient Complaints
Unethical conduct or behavior
State/Local Governments

Gang Activity
Domestic Abuse
Suspicious Behavior or Activities
Corporate

OSHA Violations
Sexual Harassment
Unethical or Illegal Activities
For a live demo of Regroup's Emergency & Mass Notification System, sign up here: http://bit.ly/1xrzang
About Regroup:
Regroup, the leading Emergency Notification and Mass Communication provider, offers easy one-click messaging to mobile phones (text/voice), landlines, email, social media, websites, and more. Regroup stands apart from other mass messaging systems with its ease of use, automated weather alerting capabilities, seamless integration with social media and client databases, unparalleled reliability and unlimited text/voice/email messaging.
To learn more about how Regroup's Mass Messaging and Emergency Notification System can provide rapid communications during a crisis, as well as streamline your organization's day-to-day communications, call 917-746-6776 or email inquiries[at]regroup[dot]com.