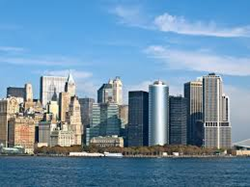 In less than two years, we have doubled the number of employees in our New York office along with generating well over $100 million in new sales ...
New York (PRWEB) December 22, 2014
With increased demand for improvements in the tri-state region's rail transit system and major new complex bridge projects, including the $555 million, 1.1 mile-long new Kosciuszko Bridge, infrastructure solutions firm HNTB Corporation's New York office is rapidly growing in the number of full-time professionals and introducing an expanded leadership team.
"In less than two years, we have doubled the number of employees in our New York office along with generating well over $100 million in new sales for each of those years," said Mike Sweeney, PE, New York district leader and senior vice president. "Today, we have more than 250 people based in the New York City office, including more than 50 new transit professionals along with bridge designers, civil engineers, architects and others, and we expect to see this growth trend continue through 2015."
The rapid growth of HNTB's New York office is behind the addition of two new members to the office's leadership team, with Chris Price, PE, as deputy office leader/operations manager and Yvonne Lopez-Diaz, who assumes the role of New York office human resources/growth champion. In addition, Joe Pizzurro has been named New York office sales manager, and John Seaboldt continues as the New York office delivery manager.
While there are many reasons for HNTB's growth, Sweeney cited the increasing recognition of transit's importance to the region's economic well-being as key.
"Elected state and city leaders, transit agency management and transportation think tanks, among others, are united on the need and importance of maintaining and improving the quality, capacity and efficiency of the rail transit network in the New York City metropolitan area," Sweeney said.
HNTB's extensive transit expertise serves the mobility needs of passengers throughout the tri-state region and across the country. Clients locally include the New York City Transit Authority, the Metropolitan Transit Authority's Metro-North Railroad and Long Island Rail Road Co., New Jersey Transit, as well as Amtrak and its Northeast Corridor passenger rail service.
Celebrating a century of service, HNTB's history is built on 100 years of experience in the design and construction of many the most significant and iconic bridges in the nation. In addition to its role as lead designer of the Kosciuszko Bridge, HNTB also serves as the owner's engineer for the $3.9 billion New NY Bridge (a.k.a. the Tappan Zee Bridge). Other examples of the firm's work on complex bridges in the northeastern U.S. include the Lake Champlain Bridge in Crown Point, New York; the Portsmouth Memorial Lift Bridge in Portsmouth, New Hampshire; and the Leonard P. Zakim/Bunker Hill Bridge in Boston. HNTB's expertise extends into successfully delivering other major transportation infrastructure projects such as program and construction management for transit systems, passenger and freight rail systems, tunnels, airports, as well as tolling systems and technology in the United States.
Since opening its office in New York City in 1922, HNTB has maintained a continuous presence in Manhattan and has expanded its practice in the state with offices in Albany and on Long Island. HNTB Corporation employs more than 400 professionals in multiple offices across the New York tri-state region, and has more than doubled in size in the past two years.
About HNTB
HNTB Corporation is an employee-owned infrastructure solutions firm serving public and private owners and contractors. Celebrating a century of service, including more than 90 years in New York, HNTB understands the life cycle of infrastructure and addresses clients' most complex technical, financial and operational challenges. HNTB's New York offices currently employ more than 400 full-time professional in nine tri-state locations. Professionals nationwide deliver a full range of infrastructure-related services, including award-winning planning, design, program management and construction management. For more information, visit http://www.hntb.com.