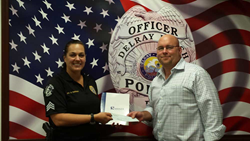 "The Delray Police Department and the Kids 'n Cops program appreciates the support of Shiner Law Group, who help make it possible for kids in our community to experience the joy of the season," said Sgt. Nicole Guerriero of the Delray Beach Police
Delray Beach, Fla. (PRWEB) December 22, 2014
The Holiday Toy Drive, now in its 24th year, is sponsored by the Delray Citizens for Delray Police and the Kids 'n Cops Program. New toys and gift cards have been collected throughout the season and will be distributed to children ages five through 17. Local businesses, civic groups and private citizens donate bicycles, dolls, stuffed animals and more, so that kids who otherwise wouldn't have new toys will be sure to receive one during the holidays.
"No matter what the time of year, we are always happy to help out our police department," said David Shiner of Shiner Law Group. "But when given a chance to provide toys during the holidays to deserving children in our community, it means even more. We appreciate the hard work of the Delray Beach Police Department in making kids' dreams come true."
"The Delray Police Department and the Kids 'n Cops program appreciates the support of Shiner Law Group, who help make it possible for kids in our community to experience the joy of the season," said Sgt. Nicole Guerriero of the Delray Beach Police Department. "Their generosity will ensure that we can give new toys to many more children."
For more information on Delray Beach Police Department, please visit http://mydelraybeach.com/ police. For more information on Shiner Law Group, visit http://www.incourt.com.
About Shiner Law Group
Shiner Law Group specializes in civil litigation and trial work, with an emphasis on personal injury law and complex business litigation. The Boca Raton-based firm serves all of Florida, including Boca Raton, Boynton Beach, Fort Lauderdale, Deerfield Beech, Delray Beach, Miami, Orlando, Tampa and surrounding communities. Shiner Law Group attorneys are focused on helping each client find justice after car and motorcycle accidents, falls and other injury accidents. Confidential, free consultations are available by calling 561-368-3363. Learn more about Shiner Law Group at http://www.incourt.com.