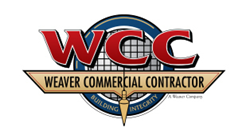 "We are extremely excited as well as humbled by our opportunity to partner with a firm like BGW". - Ron Wenger, President, Weaver Commercial Contractor
Wooster, OH (PRWEB) December 29, 2014
Building God's Way (BGW), a nationwide church architect and builder network that provides a broad range of solutions to Christian ministries, announced that it has formed an exclusive partnership with Weaver Commercial Contractor (WCC) in the state of Ohio.
This partnership combines the construction expertise and excellent reputation of WCC throughout Ohio with the broad network of services offered to ministry-based organizations through the BGW program, including church design, funding, for-profit integration, leadership development, A/V technology and more.
BGW partners with top church and school builders around the country that have both a heart for Christian ministry and a reputation and track record for constructing top quality buildings at affordable prices.
Dan Cook, Founder of BGW, commented on the new partnership, "WCC aligns very well with our philosophy and our mission to focus on Biblical stewardship, relationships and outreach as we construct buildings that honor the Lord. We are excited to partner with them to reach more churches and Christian schools in the state of Ohio."
WCC is a highly sought-after, full-service commercial construction firm that specializes in design-build, site evaluation and planning, new construction, remodels, additions and budget consulting. Located in Wooster, OH, the company built its first church in 1972, and church and Christian school construction has been a priority for the company ever since.
Ron Wenger, President of WCC, also commented on the new partnership, "We are extremely excited as well as humbled by our opportunity to partner with a firm like BGW. We view this as not only an opportunity to establish a professional relationship, but also as an opportunity to come alongside BGW and impact lives in an eternal way."
BGW and WCC will kick off their new partnership with a seminar event on April 23rd at Malone University in Canton, OH. Churches throughout the Canton - Akron area and beyond will be invited to attend this "Momentum Summit" event to hear presentations by award-winning church architect Don Mahoney and pastor Eric Bahme, author of the Book "The MBE (Mission-Based Entrepreneur) Revolution". The speakers will share innovative new strategies for church design and church construction as well as capital fundraising, for-profit integration, and A/V technology.
About Building God's Way - BGW has become a recognized leader in ministry design and construction through its extensive experience in working with hundreds of churches, Christian schools and colleges across the U.S. BGW's trademark programs based on Biblical stewardship and ministry on the construction job site have set them apart from other church builders and includes an unparalleled network of services, including church design, church building, leadership development, capital fundraising, for-profit integration, A/V technology and more. Visit http://www.bgwservices.com for more information.