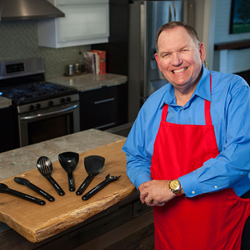 Saucepan Chef proves that all cooking utensils are not all the same. In fact, Saucepan Chef's are absolutely superior. --Food and Wine Editor, BroadwayWorld.Com
Nashville, TN (PRWEB) December 23, 2014
Not everyone has the nerve to launch a business in their twilight years, but Saucepan Chef creator, Ellis Regini, saw a need and went for it.
For years Ellis knew he could design better cooking. Each time he cooked, he conceived of ways our basic design of cooking tools could be improved. Then, one conversation on a plane changed everything. He found himself seated to someone who helps people start their own businesses and he realized it's never too late to launch ones dream.
Inspired, Ellis went home to design the tools that he'd been envisioning over the last decade. The result is a better set of cooking utensils that are sturdy, heat-resistant, and won't discolor.
The design incorporated all the features that he had longed for. Some of those features include:

An added a blunt edge to the spoon, so cooks could hold it vertically to chop meat in the pan.
A triangular shape spoon head for scraping the sides of bowls and saucepans.
The only knife on the market that allow cooks to cut food inside non-stick cookware without ruining the surface.
A spatula that is cornered instead of rounded, for better pouring.
A spatula that turns on a 30 degree angle, instead of 180 degree angle.
A melting point that is so high, the set is safe to use over open flames.
This baby-boomer spent over two years researching every aspect of cooking to create this superior kitchen utensil set.
Not only did Ellis Regini excel with his product, but he's selling with style. With a sense of humor that captures the iconic 50's era of advertising, he's finding entertaining audiences as he sells his product.
Ellis Regini is available for interview. A well-established financial advisor, he can speak about starting a business after retirement and following one's dreams, regardless of their age.
The set is available on the Saucepan Chef website: http://www.saucepanchef.com.
Please contact Jessica Dotta with River Birch Industries to book Ellis or request a sample product. She can be reached at 615-499-2071 or jessica(at)riverbirchindustries(dot)com.