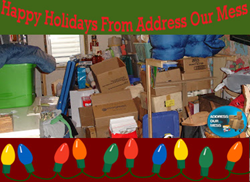 The removal of the boxes can free up your space
Baltimore, MD (PRWEB) December 26, 2014
It is the Holiday Season and Address Our Mess can help families with dealing with the clutter that is produced by the holiday season. Examples of clutter that can be often found in homes are empty boxes for the items that have been purchased. Or items that need to be discarded in order to make room for the items were purchased. Also, families often have extended family come over and spend a significant amount of time with but when they leave, they leave all their trash in the rooms that they were in. Address Our Mess can help with all these processes.
Boxes are a problem in many homes across the nation and this may cause a problem for many property owners. This is especially problematic during the holiday season with all the presents and toys being unwrapped the boxes can become overwhelming clutter for many families, and with the frantic pace of the holiday season they can be an overlooked piece of home clutter that needs to be removed. The removal of the boxes can often free space up in order to get the rest of the cleaning done in your property. What about those items that were in those boxes.
The items were in those boxes whether it be clothes, appliances, or toys were possibly given to replace an old or obsolete item. These old items need to be removed from the home, but are often forgotten about and over time thus they turn into clutter. More likely these items are found in the basements of many people's homes, and they fail to realize that they are losing valuable square-footage to these items that are no longer necessary. Address Our Mess can help in discerning which items that you have multiples of in order to prevent this situation from occurring. Now onto the wonderful discussion of holiday leftovers.
Holiday leftovers are often something that is looked forward to by many different people, but many people can only stomach so many leftovers and cookies. What happens is that these items tend to spoil in the fridge or harden in the cookie cans. These food items, can clutter up the home and can turn into a biologically hazardous waste if they are not disposed in a certain period of time. The main reason for being considered a biohazard is that the bacteria that creates the decay of the food material is potentially hazardous to human health.
When dealing with clutter during the holiday season clutter can affect a host of different people in many ways. Address Our Mess is here to help solve holiday clutter troubles, and to get families organized after the holiday madness has subsided. Clutter does not have to take over the life of people, let a professionally trained clutter cleanup company handle the work. They are respectful and understand the need for privacy, and this will be done in a careful and considerate manner.