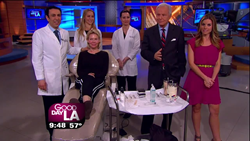 Los Angeles, CA (PRWEB) December 23, 2014
On December 16, 2014, CBS News posted an online article titled "Indoor Tanning Injuries Send Thousands to the ER Each Year" that details the number of annual emergency room visits caused by tanning bed injuries. The most common injuries are burns, eye injuries, and fainting. The article also discusses the long-term health implications of indoor tanning, said to be the cause of 170,000 cases of skin cancer every year. (see: goo.gl/iWZIig)
"I hope this is one more nail in the coffin of indoor tanning," says Dr. Simon Ourian, Medical Director of Epione Beverly Hills. "As reported in the article, tanning beds lead directly to hundreds of thousands of skin cancers. One would think that would be sufficient reason to avoid tanning beds, but apparently that's not the case."
According to the CBS News article, the most common tanning bed injury requiring an ER visit is a severe burn, representing nearly 80 percent of the total. Fainting resulted in another 10 percent of the ER visits and eye injuries another 6 percent. Severe eye burns may eventually lead to cataracts. As of 2013, the U.S. Food & Drug Administration requires tanning facilities to clearly post signs listing the potential hazards and risks of indoor tanning.
"I'm glad to see that the number of reported ER visits caused by tanning bed injuries has dropped significantly over the past decade," says Dr. Ourian. "Hopefully it is an indication that the popularity of indoor tanning is fading."
Dr. Ourian has been a pioneer in laser technology and non-invasive aesthetic procedures including Restylane, Juvéderm, Radiesse, Sculptra, and CoolSculpting. These treatments are used for the correction or reversal of a variety of conditions such as acne, acne scars, skin discoloration, wrinkles, unwanted fat, stretch marks, varicose veins, cellulite, and others. More information about skin care can be found on Epione's website.