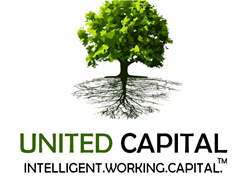 Saint Petersburg, Florida (PRWEB) December 24, 2014
United Capital Funding Corp., the leading provider of professional Accounts Receivable based funding and credit management solutions in the United States, announced today that it has finalized a renewal of its current financing facility with Memphis, Tenn.-based First Tennessee Bank, a subsidiary of First Horizon National Corp., (NYSE: FHN). The senior-secured facility is a renewal of a credit facility first entered into between United Capital and First Tennessee in 2006.
"We are honored to continue our relationship with First Tennessee, ensuring that we will be able to continue to expand our portfolio and provide solutions that meet our clients' needs," said Chris Youmans, President and Managing Partner of United Capital Funding. "Over the years, we have enjoyed the outstanding professional services provided by First Tennessee, and we value the support we have received from everyone we work with there." Ivan Baker, Managing Partner of United Capital added: "We appreciate the professionalism of First Tennessee's due diligence team and their management team's approval to provide capital that allows us to keep our clients growing."
"First Tennessee is pleased to continue to have United Capital in our growing portfolio of relationships with specialized finance and factoring companies," said David Perry, Executive Vice President, for First Tennessee. "United Capital represents the type of high quality specialty finance company that we are committed to serving. We look forward to working with them as they continue to grow." United recently reached a milestone when it reached $2.5 billion in client funding since its formation in 1997.
About First Horizon
The 4,200 employees of First Horizon National Corp. (NYSE:FHN) provide financial services through more than 170 First Tennessee Bank locations in and around Tennessee and 27 FTN Financial offices in the U.S. and abroad. The company was founded during the Civil War in 1864 and has the 14th oldest national bank charter in the country. First Tennessee has one of the highest customer retention rates of any bank in the country, and FTN Financial is a capital markets industry leader in fixed income sales, trading and strategies for institutional customers in the U.S. and abroad. First Horizon has been recognized as one of the nation's best employers by Working Mother and American Banker magazines. .
About United Capital Funding Corporation
United Capital Funding Corp. [http://www.ucfunding.com is the leading professional Accounts Receivable funding, and AR management services based firm in the United States today. Providing solutions with Intelligent.Working.Capital, since 1997 United has successfully provided funding in excess of $2.5 Billion to entrepreneurial firms with annual revenue from startup stage to over $50 Million. United possesses the financial resources to serve firms seeking to improve their cash flow and reduce costs. United is headquartered in the Tampa Bay area, and also has regional offices in Nashville and Charlotte. Additional information on the specialized business financial services provided by United, including factoring, Accounts Receivable management, and working capital are available online at their website; http://www.ucfunding.com; via email at mark(at)ucfunding(dot)com; or by telephone (877) 894-8232.
Contacts:
United Capital Funding Corp.
Mark S. Mandula, Managing Partner
Email: mark(at)ucfunding(dot)com