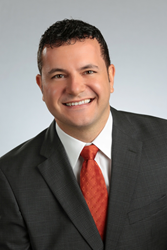 "Dino's deep understanding of specialty operations, our patients and the complexities of the health care environment will serve us well as we expand our scope of providing integrated pharmacy care. " - Mesfin Tegenu, PerformRx
Philadelphia, PA (PRWEB) December 22, 2014
PerformRx℠ (http://www.performrx.com), a URAC-accredited, full-service pharmacy benefits manager with industry-leading clinical programs, announced today it has appointed Dino Martino, R.Ph., executive director of PerformSpecialty. He will be responsible for the leadership, strategic direction and clinical oversight for PerformRx's new full-service specialty pharmacy headquartered in Orlando, Florida.
"Dino's deep understanding of specialty operations, our patients and the complexities of the health care environment will serve us well as we expand our scope of providing integrated pharmacy care. With his focus and leadership, we are well-positioned to continue to control costs, improve patient care and drive better health outcomes," said Mesfin Tegenu, M.S., R.Ph., president of PerformRx.
Martino has more than 18 years of experience in specialty pharmacy. He participated in the growth of one of the country's first specialty pharmacies in 1994, which is now a part of CVS Health, and was instrumental in growing operations into one of the largest pharmacies in the nation, now owned by Express Scripts. Martino later served as a consultant in regulatory pharmacy practices and operations before joining PerformSpecialty earlier this year. He earned his Bachelor of Arts degree in pharmacy and post-graduate training in biopharmaceutics and pharmacokinetics from Duquesne University in Pittsburgh.
"PerformRx has been an industry leader in the development of innovative pharmacy services. It is an honor to join this leadership team as the company expands into new clinical areas. PerformSpecialty enables us to provide a holistic, high-touch approach to patient care as well as effective solutions to contain costs for specialty medications," Martino said.
About PerformRx
PerformRx, a URAC-accredited full-service pharmacy benefit manager (PBM), is one of the nation's technology leaders providing an innovative and integrated approach to results-focused pharmacy benefit management programs. PerformRx integrates health care data and utilizes a collaborative model of care impacting the overall health care dollar. Driven by the strength of its leaders and passion of its employees, PerformRx helps payers improve patient outcomes while achieving high quality. For more information, visit http://www.performrx.com.
About PerformSpecialty, LLC
PerformSpecialty, LLC is a full-service specialty pharmacy dedicated to achieving healthier outcomes by providing personalized care and better access. Located in Orlando, the company's patient-centric approach provides high-level care through its support and adherence programs, fulfillment services, refill reminders and complete pharmaceutical care management. PerformSpecialty works with prescribers and pharmaceutical product manufacturers to ensure patients receive the right treatment, at the right time, for the best outcome. PerformSpecialty is a wholly owned subsidiary of PerformRx. For more information, visit http://www.performspecialty.com.