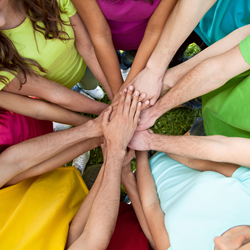 It's play with a purpose and it definitely strengthens the relationships within the team and with the company, too
Kansas City, MO (PRWEB) December 23, 2014
Cruise Dreams has discovered that more corporations than ever before are open to the idea of adding a socially responsible event to their incentive travel program. Clients who have added an event that combines fun, team building and a purpose find employees and customers who participate are very enthusiastic and grateful for the opportunity to do something meaningful.
"Employees in particular, respond very favorably when "winning" the team building event involves more than just prizes and awards," said Kim Gibbons, founder and president of Cruise Dreams, an agency specializing in group and incentive travel. "It's play with a purpose and it definitely strengthens the relationships within the team and with the company, too."
Some of the benefits of CSR programs are:

Positive image for the company, particularly if the event is congruent with corporate values, i.e., if the company encourages volunteering at homeless shelters, carrying through this interest on an incentive cruise or resort stay just reinforces that commitment.
Participating with other employees, customers and management builds relationships unmatched by meetings and entertainment only options
A recent Gallup poll found Millennials in particular, place high values on company engagement and social responsibility.
Giving back to the community where the incentive trip is held or a port the incentive cruise visits gives a unique flavor to the program while giving participants an opportunity to have a meaningful impact.
While Cruise Dreams incentive travel programs will always include gala private events, fun and unusual outings, out-of-the way excursions and other extras that they're known for, more and more companies are discussing CSR add-ons. Almost 50% of travel planners in a recent industry survey planned to include such an event in their next incentive trip or resort-based sales meeting.
Programs can be brief or lengthy, complicated or simple and are custom designed to suit the travel group and their interests. Past events have included a road rally that led to assembling bikes for needy children, an obstacle course that adds elements to military care packages with each successful completion, game shows with winnings to charity of choice and more. Recipients are often schools, homeless shelters, senior homes and others.
"It's a different kind of wow," explains Gibbons. "Our goal is to always include unique experiences you wouldn't have otherwise and doing something like helping build a shelter in a third world country with challenges and competition thrown in with your colleagues and clients definitely fits the bill. And of course, that's on top of the non-CSR events we include with every program. It's the best of both worlds."
Cruise Dreams, a niche travel company, specializes in individual and group travel or cruises plus corporate incentive travel on land or by sea. Whether it is a cruise for twenty, two hundred, twenty five hundred or a full or partial ship charter or a stay at a 5-star all-inclusive luxury property world-wide, Cruise Dreams is known for expertise, negotiating savvy, destination knowledge and exemplary customer service. For more information, visit http://www.cruisedreamsincentivetravel.com or call 1-877-999-4533.