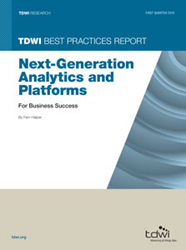 Organizations realize that to be competitive, they must be predictive and proactive.
Seattle, WA (PRWEB) December 22, 2014
TDWI Research announced the release of its newest Best Practices Report, Next-Generation Analytics and Platforms for Business Success. This original, survey-based research focuses on the factors driving organizations to use next-generation analytics (including predictive analytics, prescriptive analytics, and operational intelligence), discusses over 300 enterprises' current and planned use of these technologies, and offers 10 best practices for using analytics to maximize business advantage.
As report author Fern Halper explains, "Organizations realize that to be competitive, they must be predictive and proactive. However, although the phrase 'next-generation platforms and analytics' can evoke images of machine learning, big data, Hadoop, and the Internet of things, most organizations are somewhere in between the technology vision and today's reality of BI and dashboards." She notes in the report that "Next-generation analytics might move your organization from visualization to big data visualization; from slicing and dicing data to predictive analytics; or to using more than just structured data for analysis."
The report provides in-depth survey analysis of current strategies and future trends for next-generation analytics. It looks at technologies supporting next-generation analytics (such as big data) and drivers behind enterprise interest in these analytics (such as driving new revenue and better decision making). The report's surveys reveal the kinds of BI performed in enterprises today and plans for the next three years as well as who's conducting the analysis (it isn't just statisticians anymore). Halper also examines specific advanced analytics performed today and expectations for the near future and looks at what kinds of data are being analyzed.
In addition, the report offers recommendations and 10 best practices for getting the most from next-generation analytics within an organization.

The report also dives deep into the survey results, noting:
Databases, data warehouses, and flat files are still the platform of choice for analysis; 86 percent of respondents use some sort of database or data mart today for analytics, a figure that will grow to 92 percent within three years
The benefits enterprises recognize of using specific technologies for analytics, such as in-memory computing
Interest in Hadoop is high but adoption rates of both commercial and open source distributions are low and are expected to remain under 40 percent within the next three years
Organizations are using various cloud deployment and delivery options for analytics; those that tend to use the cloud for analytics are often more advanced in their use of analytics
This research was sponsored by Actian, Cloudera, Datawarch Corporation, Pentaho, SAP, and SAS.
About the Author
Fern Halper Ph.D., is well known in the analytics community, having published hundreds of articles, research reports, speeches, Webinars, and more on data mining and information technology over the past 20 years. Halper is also co-author of several "Dummies" books on cloud computing, hybrid cloud, and big data. She is the director of TDWI Research for advanced analytics, focusing on predictive analytics, social media analysis, text analytics, cloud computing, and "big data" analytics approaches. She has been a partner at industry analyst firm Hurwitz & Associates and a lead analyst for AT&T Bell Labs. Her Ph.D. is from Texas A&M University. You can reach her at fhalper(at)tdwi(dot)org, on Twitter @fhalper, and on LinkedIn at linkedin.com/in/fbhalper.
About TDWI
TDWI is your source for in-depth education and research on all things data. For 20 years, TDWI has been helping data professionals get smarter so the companies they work for can innovate and grow faster.
TDWI provides individuals and teams with a comprehensive portfolio of business and technical education and research to acquire the knowledge and skills they need, when and where they need them. The in-depth, best-practices-based information TDWI offers can be quickly applied to develop world-class talent across your organization's business and IT functions to enhance analytical, data-driven decision making and performance.
TDWI advances the art and science of realizing business value from data by providing an objective forum where industry experts, solution providers, and practitioners can explore and enhance data competencies, practices, and technologies.
TDWI offers five major conferences, topical seminars, onsite education, a worldwide membership program, business intelligence certification, live Webinars, resourceful publications, industry news, an in-depth research program, and a comprehensive website. For more information, visit tdwi.org or follow us on Twitter @TDWI.
About 1105 Media
1105 Media, Inc., is a leading provider of integrated information and media in targeted business-to-business markets, including specialized sectors of the information technology community; industrial health, safety, and compliance; security; environmental protection; and home healthcare. 1105's offerings span print and online magazines, journals, and newsletters; seminars, conferences, and trade shows; training courseware; and Web-based services. 1105 Media is based in Chatsworth, CA, with offices throughout the United States.
###
Media Contact:
Fern Halper, TDWI
fhalper(at)tdwi(dot)org