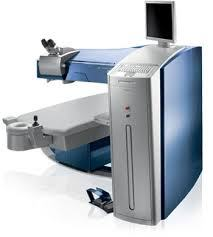 Speed can increase patient comfort and safety
Los Angeles, CA (PRWEB) January 15, 2015
Khanna Vision announced today that it will introduce Allegretto 500 Hz laser at its Beverly Hills location. This laser is the newest in the line of proven Allegretto technology. Dr. Khanna said, "Any laser that increase patient comfort, safety and better outcomes needs to be embraced." The fear of the eye moving during the surgery is always at the top of a patients mind. Allegretto is focused on reducing this fear.
Allegretto 500 achieves better outcomes based on its technology. It delivers laser spots at 500 spots per second. This reduces the treatment time significantly. This reduced time reduces the time the eye needs to be under the laser. It also prevents uneven drying of the eye. There is also an ultrafast eye tracker, which can counter saccadic eye movements. This laser also is able to measure the corneal flap and the amount of tissue ablated using an online pachymeter. Allegretto 500 laser produces its own nitrogen gas to stabilize the laser beam. These features which reduce the treatment time and increase precision make the staff at Khanna Vision extremely happy.
Dr.Khanna is a certified ophthalmologist by American Board of Ophthalmology. He is trained in Corneal and Lasik refractive Surgery at University of Cincinnati. He is certified on a multitude of lasers like Visx, Allegretto, Nidek, Lafdarvision, Intralase, Lensx and Catalys. He has performed more than 10,000 vision correction surgeries. He practices in Beverly Hills. He is also author of the bestseller - "The Miracle of Pi in Eye."